Don't Expect Another Month Like This as Oil Holds: Turkey Credit
Natasha Doff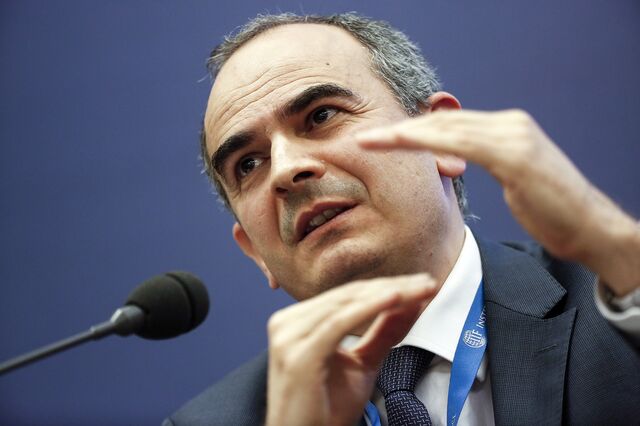 Investors in Turkish debt who earned the biggest returns in emerging markets this month shouldn't hold out for a repeat in November as an end to oil's swoon and conflict in the Middle East weigh on the bonds.
The nation's local-currency sovereign bonds have earned 9.1 percent in October, the most among 31 developing nations tracked by Bloomberg, as tumbling oil prices helped narrow the nation's current-account deficit. Brent crude has risen 4.6 percent since touching an almost four-year low of $82.60 a barrel on Oct. 16.
"This month was a one-off," Marco Ruijer, who helps oversee $7.5 billion of emerging-market debt at ING Investment Management in the Hague, said by phone on Oct. 27. "Going forward, Turkey is impacted by the Syrian war and it depends on the outlook of the oil price. We don't think the oil price will drop a lot further from current levels."
Turkey's balance of payments shortfall is still on track to be the largest among 24 emerging markets, according to International Monetary Fund estimates, while the prospect for higher U.S. interest rates is fueling financial-market outflows. Fighting has continued to rage in the Syrian town of Kobani, on Turkey's southeastern border, even as U.S.-led air strikes seek to weaken Islamic State's advance in the region.
Turkey, which depends on oil imports for most of its energy needs, had a current-account deficit of almost 8 percent last year, the most since 2011, according to Turkey's statistics office. The shortfall will narrow to 5.8 percent this year, IMF data show.
Oil Slump
Oil's more than 20 percent decline since June into a bear market will be short-lived, according to Standard Chartered Plc, which sees Brent averaging $105 a barrel next year and $115 in 2016. Sanford C. Bernstein & Co. forecasts an average Brent price of $104 a barrel in 2015.
"I expect the oil price to bottom out and stabilize or rise and in this case Turkey will stop outperforming as the bigger problems of Erdogan's strong-handed politics, political conflicts in Syria and Iraq, incredible central bank policies and too high inflation persist," Lutz Roehmeyer, a money manager overseeing $1.1 billion of emerging-market debt at Landesbank Berlin Investment GmbH, said by e-mail.
Central bank Governor Erdem Basci, under pressure to lower borrowing costs to help stoke an economic recovery, has cut the benchmark rate three times since May even as he struggles to tame inflation, which has stayed more than 3 percentage points above the 5 percent target since March. Consumer prices rose an annual 8.9 percent in September after touching a more than two-year high of 9.7 percent in May, government data show.
Kurdish Tension
Iraqi Kurdish fighters, known as Peshmerga, arrived in Turkey yesterday on their way to Kobani, according to live footage on NTV television. President Recep Tayyip Erdogan opposes arming the Syrian fighters directly because they are allied with the Kurdistan Workers' Party that has fought for autonomy in Turkey since 1984.
While the conflict in Syria poses a risk to Turkish bonds, "it has not been in investors' focus for some time," Martin Marinov, a money manager who helps oversee about $1 billion of fixed-income assets in emerging markets at Raiffeisen Kapitalanlage GmbH, said by phone yesterday.
Foreign investors bought a net $675 million of Turkish bonds in the two weeks ended Oct. 17 following a $937 million outflow that was the most since Aug. 8, central bank data show.
Turkey's two-year lira notes yielded 8.20 percentage points above equivalent-maturity Treasuries at 4:42 p.m. in Istanbul, down from 9.41 percent on Sept. 30, the highest since April. The lira strengthened 3.4 percent this month, the most among 24 emerging-market currencies tracked by Bloomberg after the Chilean peso and the South African rand.
"Spreads could still tighten more, but I don't think Turkey will continue outperforming other emerging markets," ING's Ruijer said. "The good news has been priced in."
Before it's here, it's on the Bloomberg Terminal.
LEARN MORE