Barclays Investment Bank Profit Drops on Equities, Fees
Julia Verlaine and Jeffrey Vögeli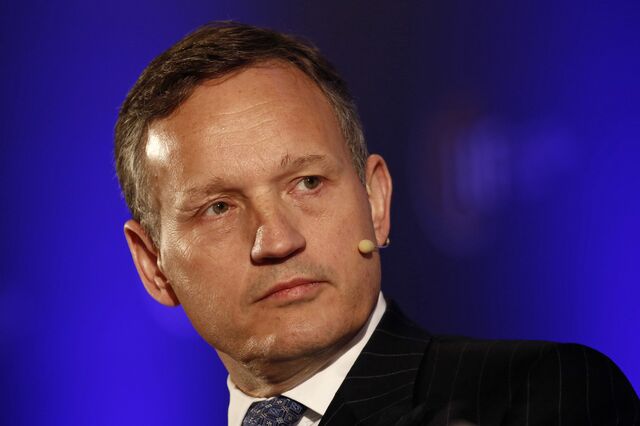 Barclays Plc, the U.K.'s second-largest bank by assets, said third-quarter pretax profit at its investment bank dropped 39 percent, trailing European peers, as fees for managing securities sales and trading stocks plummeted.
Income fell to 284 million pounds ($454 million) from 465 million pounds as investment-banking fees decreased 22 percent to 410 million pounds from the year-earlier period, the London-based bank said in a statement today. Equity-trading revenue dropped 25 percent to 395 million pounds.
Chief Executive Officer Antony Jenkins is eliminating thousands of jobs, shrinking the investment bank's fixed-income business and focusing on the U.K. and the U.S. as he retreats from building a global securities firm that once accounted for more than half of the company's profit and assets. While UBS AG and Credit Suisse Group AG have also been shrinking their investment banks, revenue at the parts of the securities units they are keeping rose in the third quarter.
"The miss in equities and investment banking is related to Barclays's specific problems," said Joseph Dickerson, an analyst at Jefferies Group LLC in London with a buy rating on the stock. "They are not participating in certain debt underwriting areas such as leveraged-finance given the regulatory attention around that market. In equities, the performance was weak because they are now seeing a broader impact from dark pool allegations."
Legal Provisions
Barclays is grappling with mounting legal costs from allegations that range from misleading clients of its U.S. dark pool to market rigging, and set aside 500 million pounds to cover the cost of settling a probe into currency markets.
Revenue in UBS's corporate client solutions unit, which includes advisory, underwriting and financing businesses, jumped 46 percent to 738 million Swiss francs ($770 million) in the quarter. Equities trading posted a 2.3 percent increase in revenue. The bank set aside $1.9 billion for litigation provisions, mostly within the securities unit, which led to a pretax loss for the quarter.
Credit Suisse still relies more on its investment bank than local competitor UBS. While UBS has shrunk its securities unit to focus on managing money for the wealthy, Credit Suisse plans to allocate an equal amount of capital to the investment bank and to the money-managing businesses.
'Significant Pressure'
Credit Suisse's investment-bank profit more than doubled to 516 million francs in the quarter as revenue from fixed-income trading rose 73 percent, helped by securitized products and emerging-markets businesses. Equities revenue was stable.
Deutsche Bank AG, which is allocating more capital to its investment bank and trading unit to gain market share, yesterday said pretax profit at the investment bank rose 4 percent to 374 million euros in the quarter from a year earlier. Revenue from trading fixed income and currencies rose 15 percent to 1.44 billion euros in the third quarter from a year earlier.
Barclays's third-quarter results are "a clear indication of a deleveraging investment bank under significant pressure, especially in businesses such as prime services and equities which have been impacted by dark pools, deleveraging repo books and a cost focus from management," said Chirantan Barua, an analyst at Sanford C. Bernstein Ltd. in London, who rates the shares market perform.
Before it's here, it's on the Bloomberg Terminal.
LEARN MORE