The Bailout Reunion Trial
Hank Greenberg says he was ripped off by the AIG rescue
Paul M. Barrett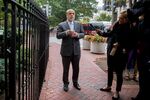 Long before the pioneering reality TV program The People's Court began adjudicating whose dog bit whom, the U.S. Court of Federal Claims acquired the nickname "the people's court." Created in 1855, the specialized claims court hears suits seeking damages from the government. Its current marquee case—Maurice Greenberg's attack on the 2008 bailout of American International Group—is likely to erode whatever populist ambience still attaches to the Washington tribunal.
The dapper, 89-year-old Greenberg goes by the folksy moniker "Hank," but he once personified the financial plutocracy. As chief executive officer of giant insurer AIG, he accrued vast power and personal wealth. Then, in 2005, he was ousted from AIG amid an accounting scandal. Ever since, he's sought to restore his reputation with a legal and public-relations offensive against various antagonists. In his claims court action, Greenberg, who owned about 11 percent of AIG through his Starr International when taxpayers bailed it out, alleges that the terms of the rescue cheated him and other shareholders out of $25 billion.

It could be a tough sell. Many observers argued at the time that the government should have let AIG collapse after its portfolio of risky credit-default swaps blew up following the housing bust. The trial, which began on Sept. 29 and is expected to continue until mid-November, posits a different reality: The government unconstitutionally seized control of AIG and imposed draconian conditions on an emergency cash infusion of $85 billion. To make this argument work, Greenberg must contend with the complicating factor that AIG's board of directors agreed to the rescue because the alternative was bankruptcy and ruin—not only for the crippled insurance company, but also possibly the national and world economies.

Greenberg couldn't have hired a more celebrated legal gunslinger to fight on his behalf. In 1997, David Boies broke away from the legendary corporate law firm Cravath, Swaine & Moore so he could take on more diverse cases. His clients have included former Vice President Al Gore, whom he represented in a losing court fight over the 2000 election, and same-sex couples seeking the right to marry. As chairman of Boies, Schiller & Flexner, his client roster has featured the likes of tobacco giant Altria, chemical manufacturer DuPont, tech titan Oracle, and the New York Yankees. Lean and vigorous at 73, Boies overcame dyslexia and is said to be capable of memorizing volumes of information he refers to with casual familiarity during court arguments.
In the Greenberg trial, Boies is living up to his name for courtroom artistry. Thomas Wheeler, the judge hearing the case without a jury, as is standard practice in the claims court, has been deferential to Boies, skeptical of his U.S. Department of Justice adversaries, and open to Greenberg's contention that buried in millions of pages of documents there might be evidence of a nefarious abuse of federal power.

One illustration: Judge Wheeler, appointed in 2005 by President George W. Bush, responded with solicitude to Boies's interest in a secretive compilation of the New York Federal Reserve's legal powers known at the central bank as the "Doomsday Book." When the New York Fed resisted turning over portions of the Doomsday Book, Wheeler ordered that Boies receive much of what he demanded, including documents dating to the 1930s. "Now that I see what's at stake and how the issue may have evolved over the years," the judge said from the bench, "I don't think there should be any time limitation on this."
Boies has prevailed in other procedural skirmishes in his effort to convince Wheeler that a Wall Street cabal, with members in and out of government, favored Goldman Sachs and other investment banks that were owed money by AIG. He's deftly orchestrated a parade of witnesses that included the architects of the rescue: former Treasury Secretary Henry Paulson; former Treasury Secretary Timothy Geithner, who was head of the New York Fed at the time; and ex-Fed Chairman Ben Bernanke. He also questioned Edward Liddy, who was recruited to be AIG's chief executive in 2008 by Paulson. Liddy, a former CEO of Allstate, was serving on Goldman's board when, according to testimony, the head of Goldman's investment banking unit at the time, Christopher Cole, asked him if he'd be willing to take over as AIG's chief executive. Cole was acting as an emissary for Paulson, who is a former Goldman CEO.
"Did you think that there was anything unusual or strange about having the chairman of the investment banking division of Goldman Sachs be the first person to call you, to ask you if you would become CEO of AIG?" Boies asked Liddy. "I did not," Liddy answered. He'd known Cole for 20 years and assumed Paulson wanted "someone to make the initial contact that I knew well." As a result of the AIG bailout, Goldman and other banks were paid in full on credit-default transactions they'd struck with the insurance company, and that's what Greenberg contends amounted to the "backdoor bailout" conducted at his expense.

Will Judge Wheeler buy the Boies-Greenberg claim? Government lawyers were expected to start countering Greenberg's allegations on Oct. 30. They've already argued that the extraordinary circumstances of the 2008 financial crisis and the dire condition of AIG fully justified the government's actions. "The goal was not to save AIG," Kenneth Dintzer, a Justice Department attorney, said in his opening statement on Sept. 29. "The goal was to save the world from AIG."
In 2012 another federal judge looked over Greenberg's demands in a similar Boies-crafted suit. Less impressed than Wheeler, U.S. District Judge Paul Engelmayer of New York described the complaint as "paint[ing] a portrait of government treachery worthy of an Oliver Stone movie." Engelmayer dismissed the version of the case in his courtroom without a trial. Now, with a different legal theory and venue, Greenberg is continuing the fight—and seemingly has a more receptive audience.
BOTTOM LINE -
The bottom line: So far, the presiding judge in the juryless trial appears to be attentive to Boies and Greenberg's arguments.
Before it's here, it's on the Bloomberg Terminal.
LEARN MORE