Alibaba's Hollywood Dreams Make Youku a Target: Real M&A
Vinicy Chan, Angus Whitley and Lulu Yilun Chen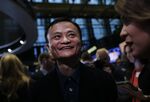 As billionaire Jack Ma browses Hollywood for movies and TV shows, he may discover that part of what he needs is actually in his backyard.
The founder of Alibaba Group Holding Ltd. toured California this week, looking for content to beam to Chinese consumers. Buying Youku Tudou Inc., China's most popular video-streaming website, would let Ma deliver U.S. films and drama series to more than a third of the population. Alibaba already owns about 17 percent of the company, which has a market value of $3.9 billion.
"It's strategic for Alibaba to buy out Youku Tudou and find a home for all of its video content," Castor Pang, head of Research at Core-Pacific Yamaichi in Hong Kong, said by phone. A deal would "increase Alibaba's appeal as an all-in-one Internet juggernaut."
With rivals such as Tencent Holdings Ltd. expanding their own digital reach, Alibaba needs Youku's 500 million users to protect its position as China's largest e-commerce company, according to CM Research Ltd. China's online video market could more than double to 40 billion yuan ($6.5 billion) by 2017 as consumers watch everything from home-movie clips to entire films on smartphones and tablets, estimates IResearch.
"As more and more people spend time watching online video, it becomes more important for Alibaba to bring these people into its ecosystem," Cyrus Mewawalla, a London-based analyst at CM Research, wrote in an e-mail. Alibaba is Youku's biggest shareholder and the most likely buyer, he said.
Youku, which has slumped 38 percent this year in New York trading, yesterday climbed 0.7 percent to $18.88. Alibaba advanced 0.4 percent to $98.73.
U.S. Content
Like Alibaba, Youku is zeroing in on U.S. studios for programming. The company, which mostly streams professionally produced content rather than amateur videos, plans to collaborate with U.S. entertainment producers to create content that could be watched on its website, Chairman Victor Koo said in an Oct. 27 interview in Hong Kong.
The next day, Ma told a conference in Laguna Beach, California that he was "looking for partners" in Hollywood. He and his team were due to meet representatives from some of the biggest studios to find deals for the rights to distribute U.S. shows at home, or to invest in the companies, people familiar with the matter said.
Koo said on Oct. 27 that Youku isn't currently in talks with Alibaba or Ma about increasing their stakes, which they took earlier this year. Spokesmen for Alibaba and Youku declined to comment on the prospects of a takeover by Alibaba.
Mobile Users
In his own speech, Ma said that Alibaba's films would be watched on mobile devices and tablets. Mobile users account for 60 percent of traffic and 30 percent of sales at Youku, which is based in Beijing.
Youku "has critical value to Alibaba's ecosystem," Guo Chenggang, a Hong Kong-based analyst at ITG HG Ltd., said in an e-mail. Alibaba is more likely to raise its stake in the company than let it slip into a rival's hands, he said.
Revenue at Youku will more than double to $1.2 billion by 2016, according to analysts' estimates compiled by Bloomberg. That's also when the company is projected to return to profitability after at least six years of losses.
Youku wouldn't just be a launchpad for Alibaba's new U.S. content. The company has its own hit Chinese shows such as "Searching Divas" and is set to run the first Chinese version of reality show Big Brother next year.
Exclusive Content
Exclusive content helps Alibaba draw traffic and advertising revenue to compete with Tencent, China's second-biggest Internet company, and Baidu Inc., the country's largest search-engine operator.
"That explains why Internet companies such as Alibaba, Baidu and Tencent have been so keen in boosting their video content," said Ricky Lai, a Hong Kong-based analyst at Guotai Junan International Holdings Ltd. "It helps grow the entire business."
Beijing-based Baidu, for example, bought Internet-video business PPStream Inc. in June 2013 for $370 million and combined it with its existing service IQiyi.com.
A takeover valuation for Youku would be low if based on a multiple of its sales or earnings, said Mewawalla at CM Research. The company's value to Alibaba, which has a market capitalization of $243 billion, might be better measured by Youku's users, he said.
"To Alibaba, its value would be strategic," Mewawalla said. "Its value would be a multiple of users, with a relatively high value placed per user."
Each Youku viewer generates an average of 8 yuan ($1.31) of revenue annually for the company, and new content would help raise the figure, Chairman Koo said.
Alibaba's Timing
Alibaba may not need all of Youku right now. Owners of Alibaba's set-top boxes can already watch TV channels and high-definition movies, shop online and play games.
The company has also been making deals with film companies. It struck an accord in July with Lions Gate Entertainment Corp. to stream titles such as "The Hunger Games" in China. In March, it agreed to take control of a Hong Kong-based film producer now called Alibaba Pictures Group Ltd.
Yet there may be room for more. Ma has described his plan to create an "ecosystem" through takeovers.
The value of Alibaba's pending and completed acquisitions this year has already more than doubled from 2013, according to data compiled by Bloomberg. The company may not stay Youku's minority shareholder for long.
"It has a tendency to gain full control of its investments," said Pang at Core-Pacific Yamaichi.
Before it's here, it's on the Bloomberg Terminal.
LEARN MORE