Zambia President Sata's Death Sparks Succession Questions
Matthew Hill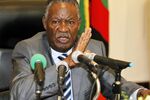 Zambian President Michael Sata's death in a London hospital yesterday has sparked a search for his replacement as head of Africa's second-biggest copper-producing nation.
Vice President Guy Scott is acting leader until elections are held within 90 days, he said on state-owned ZNBC radio today. He becomes the first white African head of state since the end of apartheid in South Africa in 1994.
According to the constitution, Scott doesn't qualify as a presidential candidate in the election because his parents, who hailed from Scotland, weren't born in Zambia. Sata, 77, named Justice Minister Edgar Lungu as acting leader when he left Zambia for medical treatment in London on Oct. 19.
Lungu handing power to Scott would make the vice president "the most influential kingmaker" as the ruling Patriotic Front selects a new leader, Robert Besseling, a London-based analyst with IHS Country Risk, said in an e-mailed note.
Among the potential candidates to seek the ruling party's nomination for president are Lungu, Finance Minister Alexander Chikwanda and Wynter Kabimba, who was fired by Sata on Aug. 28 as justice minister and secretary-general of the ruling party. Former Defense Minister Geoffrey Bwalya Mwamba could also be in contention, Clare Allenson, an analyst with Eurasia Group in London, said in a reply to e-mailed questions.
"There is a bit of a fight in the Patriotic Front to see who's going to be the candidate and there's been a lot of jockeying and positioning," Gary van Staden, a political analyst at Paarl, South Africa-based NKC Independent Economists, said by phone. "That's all a bit open at the moment."
Currency Weakens
Scott will probably support Kabimba as a candidate, Besseling said. Kabimba declined today to say if he wanted to succeed Sata.
"I'm certainly devastated," Kabimba said by phone. "Michael Sata was not just my president and I was not just his minister; he was more of a brother and uncle to me."
Kabimba said he is still an elected member of the Patriotic Front's central committee, which will have to meet to pick a new presidential candidate.
The kwacha weakened as much as 2.5 percent to 6.52 per dollar today and was trading at 6.322 as of 4 p.m. in Lusaka. Yields on Eurobonds due April 2024 rose three basis points to 6.52 percent, the first increase in six days.
Scott's Career
The ruling party will probably win the by-election unless opposition groups field a single candidate, Allenson said. The former governing Movement for Multiparty Democracy and United Party for National Development have the most seats in parliament after the Patriotic Front.
Scott was born in 1944 in Livingstone and completed degrees in cognitive science and economics at Cambridge University and the University of Sussex in the U.K.
He joined the Zambian government under President Kenneth Kaunda in the 1960s as a planner in the Finance Ministry, according to the Patriotic Front's website. He was absent from politics for two decades from 1970 before joining the Movement for Multiparty Democracy and becoming agriculture minister. In 2001 he joined forces with Michael Sata to form the PF party.
Before it's here, it's on the Bloomberg Terminal.
LEARN MORE