Why is Hillary Clinton Not Cutting Television Ads?
The prospective 2016 presidential candidate is the Democrats star attraction. So why don't they want her in their television ads?
By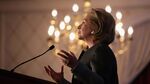 Hundreds of thousands of ads have run millions of times during the 2014 campaign. Amid that flood of endorsements and attacks, slogans and statistics, it was easy to overlook the web ad put out on Tuesday by Kentucky Senate candidate Alison Lundergan Grimes. The web-only spot features former Secretary of State Hillary Clinton at a rally in Louisville, delivering a impassioned argument for the Democratic challenger.