Take-Two Shares Rise After Results Beat Estimates on GTA
Rob Golum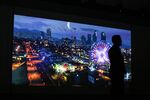 Take-Two Interactive Software Inc. gained the most in more than a year after reporting second-quarter results that beat analysts' estimates on sales of popular video-game titles including Grand Theft Auto.
The loss for the period ended Sept. 30 totaled 44 cents a share, excluding items, New York-based Take-Two said yesterday in a statement. Analysts had projected a loss of 59 cents, the average of 20 estimates compiled by Bloomberg. A year ago, the company reported record profit from a new Grand Theft Auto.
Grand Theft Auto V for PlayStation 4 and Xbox One will be released on Nov. 18. During the second quarter, Take-Two relied on sales of older games for most of its $135.4 million in adjusted revenue, according to the statement. Analysts had forecast revenue of $110.4 million.
Take-Two rose 11 percent to $25.27 at the close in New York in its biggest one-day increase since February 2013. The shares have increased 45 percent this year.
The company is counting on Grand Theft Auto, along with new versions of games such as NBA and Borderlands, to boost results during the current quarter running through year-end.
Electronic Arts, producer of the Madden and FIFA video games, reported quarterly results this week that beat analysts' forecasts and raised its outlook for the year.
Take-Two said its profit this period will be $1.35 to $1.45 a share, excluding items, with revenue ranging from $745 million to $760 million. Analysts estimate profit of $1.22 a share and sales of $770 million.
For the year, Take-Two predicts profit of $1.05 to $1.30 a share, excluding items, with adjusted revenue of as much as $1.5 billion. Analysts estimate profit of $1.08 a share on that basis, with revenue of $1.43 billion.
The net loss for the second quarter, which includes costs such as stock-based compensation and changes in deferred revenue, totaled $41.4 million, or 51 cents a share, compared with a loss of $124.1 million, or $1.40, a year earlier. Sales fell to $126.3 million from $148.8 million.
Before it's here, it's on the Bloomberg Terminal.
LEARN MORE