Senator Rockefeller Collides With a Content King
In the waning days of his long Senate career, the 77-year-old is crossing paths with Neetzan Zimmerman, one of the most powerful talents of the digital media era.
By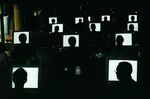 Neetzan Zimmerman doesn't seem to smile for pictures, affecting a mean mug instead. Maybe he knows the entire World Wide Web bows before him. Zimmerman is a millennial, and perhaps the generation's strongest specimen: he's something like the Internet traffic-whisperer, the darker Drudge (depending on whose color palette you're using), the e-seer who can somehow smell what content will go viral. In the span of only years, Zimmerman has launched his own website, sold it to the realm of I Can Has Cheezburger?, where lolcats lurk and purr; become the king of Gawker, often generating more traffic than every other blogger there combined; and joined Whisper, the rapidly growing secret-sharing social media app, as editor-in-chief. In a stroke, Zimmerman is both cabinetmaker and he who fills the cabinet with wonders. For his talents, savvy media companies including BuzzFeed, The Huffington Post, and Fusion have partnered with Whisper: everyone wants the manna that comes tumbling from Zimmerman's unusual mind. Everyone, that is, but Senator John D. (Jay) Rockefeller IV.