Polls Show the Ebola Panic Starting to Fade
Fox News and CBS find a drop in the number of people worried about Ebola in America.
By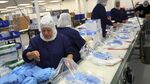 A new poll from CBS News finds that Americans overwhelmingly back some less-than-politically-correct ideas for preventing foreigners from Ebola-stricken nations from entering the United States. Only 14 percent–14 percent!–of people favor allowing travelers from West Africa to enter the United States unhindered if they show no signs of the disease. The Republicans who have been demanding "travel bans," which under scrutiny evolve into something like "travel bans on non-Americans, unpleasant quarantines for the nice doctors who have been in Africa," are backing a supermajority stance. As they thought.