Patent Lawsuits as Business Model Erodes as Rules Tighten
Susan Decker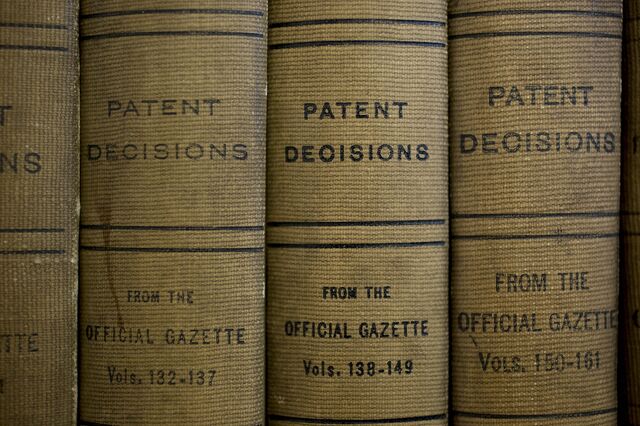 Companies that build their business models around aggressive patent litigation are discovering that approach is less lucrative after a U.S. Supreme Court ruling and stricter government policies.
Total patent lawsuits filed in the third quarter declined 23 percent from the second quarter, according to the industry coalition Unified Patents. About 88 percent of the drop is because of fewer cases by companies that make more than half their revenue from patent licensing and who sue companies in the computer, electronics and software fields, the group said yesterday.
"The drop is real and likely permanent given the many
structural changes to the patent system and patent litigation over the past couple years," said Adam Mossoff, a law professor at George Mason University in Arlington, Virginia.
The Supreme Court in June limited what types of software is eligible for legal protection, and in April made it easier for the winner at trial to get legal fees covered by the loser. Combined with pending legislation in Congress and changes in how the Patent and Trademark Office reviews disputes, licensing firms and their lawyers are finding fewer opportunities to sue.
"Software patents are a large percentage of litigation in high tech and there's a lot of uncertainty as to whether the patents are valid or not," said Shawn Ambwani, chief operating officer for Los Altos, California-based Unified Patents, a group of technology companies that pool resources to fend off patent claims.
Ambwani said lawyers who handle litigation in return for a cut of any proceeds are being more skittish about filing cases.
Lower Returns
"They're not going to be very incentivized to do it if they think the chances of recovery are low," he said. "There's a cost associate with suing and they're just not getting the returns."
The numbers are still historically high, and it's expensive for smaller companies to fend off claims, Ambwani said.
"Even though we might be seeing a dip this quarter, it doesn't mean the problem is going away," he said.
The Unified Patents study showed that 1,537 patent suits were filed in the third quarter, 343 fewer than the second quarter. Legal analysis firm Lex Machina published a study earlier this month that also showed decreases in patent suits in recent months.
Since the Supreme Court's software ruling, more than a dozen trial judges have invalidated patents on things like monitoring Internet use and Web shopping.
"It's too early to know definitively, and it could be a coincidence, but the fact is that in two months we've seen over a dozen decisions that invalidated software patents," said Josh Becker, chief executive officer of Menlo Park, California-based Lex Machina.
Supreme Court
The high court cases have changed the dynamic in litigation, said Doug Cawley, a patent lawyer with McKool Smith in Dallas who has clients on both sides of patent debates.
"The threat of having to pay fees has affected what we refer to as the 'cost of defense settlement' cases," Cawley said. "Some cases that weren't very good cases weren't filed. It's going to affect low-quality cases."
The number of suits peaked in April to an all-time monthly high of 675 that Becker said was prompted by rumors that Congress was going to make even stronger changes to the fees question that would be retroactive to that date. Since then, the numbers have consistently gone down, with 329 suits filed in September, putting the overall number on track to be at 2011 levels, according to Lex Machina.
"Does anyone think patent litigation is going away? No," said Becker. "I do believe this decrease is significant and on average it's here to stay."
PTO Reviews
Just as important are reviews being conducted by the Patent and Trademark Office that were created as part of a 2011 law covering broad aspects of the patent system. The agency is now the second-biggest forum for patent disputes in the country, as companies like Google Inc., Apple Inc. and Eli Lilly & Co. seek to cancel patents so they don't have to pay royalties.
Neither study looked at instances where companies receive letters demanding cash so they won't get sued. The Coalition for Patent Fairness, a lobbying group whose members include Google and Oracle Corp., said legislation is still needed to curb those letters and reduce lawsuits even further.
Economic Incentives
"None of this discussion of numbers changes the underlying facts that we need major reform of the patent system to change the economic incentives that drive the troll business model," Matt Tanielian, the group's executive director, said in a statement, using a pejorative term for patent-licensing firms. "The only way to accomplish such reform is through legislation that addresses the problem from demand letter to discovery to fee shifting."
Mossoff, the George Mason professor, said the figures prove the system is working.
"I agree with the commentators who are now saying that this is strong evidence that Congress need not adopt new legislation revising the patent system next year," he said.
With midterm elections next week, Congress is unlikely to do anything until the new term begins next year. That will give both sides time to argue which side is right.
Before it's here, it's on the Bloomberg Terminal.
LEARN MORE