OCBC Posts Fourth Quarterly Profit Gain on Bank Stake
Sanat Vallikappen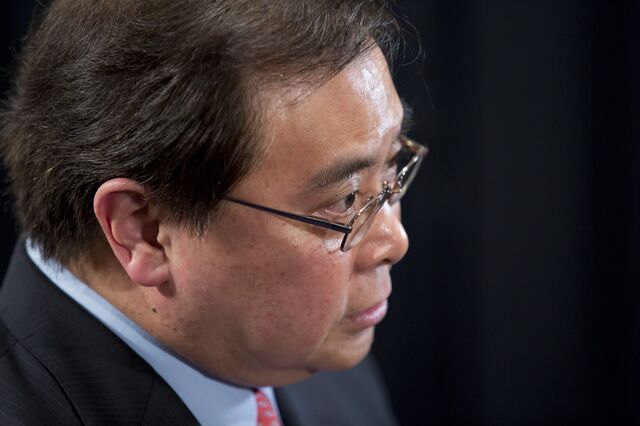 Oversea-Chinese Banking Corp. reported a fourth quarterly profit increase as it absorbed loans from its Wing Hang Bank Ltd. acquisition and booked a gain from a stake in a Chinese bank.
Net income climbed 62 percent to S$1.23 billion ($962 million) for the three months ended Sept. 30, the bank reported to Singapore's exchange today. Separately, rival United Overseas Bank Ltd. said its profit for the period rose 19 percent to S$866 million, beating the S$736 million mean of three analysts' estimates compiled by Bloomberg.
OCBC Chief Executive Officer Samuel Tsien and his counterparts at Singapore's two other banks are seeking growth in overseas markets and in fee businesses such as wealth management as their banks grapple at home with the lowest loan profitability in Southeast Asia. OCBC completed this year its $5 billion purchase of Wing Hang in Hong Kong.
"Even after stripping out profits from Wing Hang and the one-off gains, these are a strong set of numbers" for OCBC, Paul Dowling, principal analyst at Sydney-based bank research firm East & Partners Pty, said by phone today. "All the core boxes have been ticked."
Shares of OCBC, Southeast Asia's second-largest lender, closed unchanged at S$9.69 in Singapore. The stock lost 2.3 percent this year, compared with the benchmark Straits Times Index's gain of 2.1 percent.
UOB Profit
UOB shares climbed 2 percent to S$22.46. The bank's net interest income, the difference between what it makes on deposits and pays on loans, climbed 11 percent, it said in a statement after markets closed. Non-interest income jumped 32 percent as fees and commissions advanced, and trading income more than doubled.
DBS Group Holdings Ltd., Southeast Asia's largest bank, is due to report tomorrow.
OCBC's third-quarter profit excluding gains from the stake in Bank of Ningbo Co. was S$841 million. The average of four analysts' estimates compiled by Bloomberg was S$839 million.
Net interest income rose 27 percent to S$1.25 billion, the bank said. Loans advanced 27 percent from a year ago to S$205 billion, with its OCBC Wing Hang Bank unit contributing 58 percent of the increase.
Excluding Wing Hang's contributions, OCBC's loans grew 11 percent in the quarter. Monthly loan growth in Singapore this year through August slowed to an average 13.2 percent from a year earlier, from 2013's 17.7 percent, as lending to the housing sector and businesses slowed, data from the Monetary Authority of Singapore showed.
Lowest Margins
OCBC's net interest margin, a measure of lending profitability, widened for the third straight quarter to 1.68 percent from 1.63 percent a year earlier. UOB's margin was unchanged at 1.71 percent, according to its statement.
Singapore banks have sought growth outside their home city, where lenders had an average 12-month net interest margin of 1.77 percent, the lowest in Southeast Asia, according to filings compiled by Bloomberg before today. Indonesia had the highest average at 5.46 percent, the data show.
OCBC increased its stake in Bank of Ningbo to 20 percent in the third quarter, allowing the Singaporean bank to record the Chinese lender as a unit on its balance sheet. OCBC's initial 15.3 percent stake in Bank of Ningbo, which was considered an investment, was deemed sold for S$391 million and booked as a one-time gain in today's results.
OCBC's common equity Tier 1 capital adequacy ratio, a measure of financial strength, fell to 13.2 percent from 14.3 percent a year earlier, while UOB boosted its level to 14 percent from 12.9 percent. The Monetary Authority of Singapore requires banks incorporated in the country to have a minimum ratio of 6.5 percent from Jan. 1, 2015.
Before it's here, it's on the Bloomberg Terminal.
LEARN MORE