Land Loophole Looks Ever Juicier as Japan Bumps Inheritance Tax
Jason Clenfield, Kathleen Chu and Katsuyo Kuwako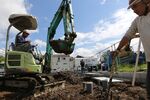 The mood at the estate planning seminar was decidedly drowsy until property appraiser Hiroshi Fujimiya flashed a PowerPoint slide on screen showing how he got one client a $1 million tax refund. Someone let out a gasp. Now he had their attention.
Seminars like this one last month in Tokyo are becoming commonplace as seniors brace for a Jan. 1 increase in the estate tax. The bump comes amid a transfer of wealth that last year saw an estimated $390 billion pass from one generation of Japanese to another, an amount bigger than most of the world's economies.
To shield their estates, some retirees purchase life insurance. Others buy 18-karat gold Buddhist icons that sell for as much as $300,000 and can be passed on tax-free because of exemptions for religious items. (Yes, there's a resale market for gold Buddhist icons.) Fujimiya's approach is different. He finds ways to assess property for the lowest amount possible.
"You pay a lot less tax if you move your cash into real estate," says the 44-year-old president of Fuji Sogo Group, a Tokyo firm that specializes in using Japan's arcane land assessment rules to cut tax bills. "I'm getting a ton of calls about it."
Inheritance taxes in Japan are so onerous they have their own proverb, which translates to something like "a fortune built in one generation will be taken by the government in the next three." Japan's top rate of 50 percent is among the world's highest. It goes up to 55 percent next year, which puts it second only to France, where the highest rate is 60 percent.
Silver Spoons
The reason for the high rate is that there's a view among Japanese that pronounced wealth inequality is a bad thing, according to Shigeki Morinobu, a professor at Chuo Law School in Tokyo and a former tax agency official. "The feeling is it's not good for society to have all these people born with silver spoons in their mouths," he said.
The National Tax Agency currently takes a piece of any estate worth more than $460,000, or 50 million yen. By comparison, the U.S. federal government taxes nothing under $5.3 million. Australia, India and Russia are among countries that don't tax estates at all.
Starting next year, Japan will lower the exemption to $280,000. That will mean 6 percent of inheritances get taxed, compared with about 4 percent now, the government says. For people whose homes are in central Tokyo, where land is expensive, about one in five could be hit, according to Fujimiya, the appraiser.
It isn't just inheritance taxes. To help pay off the world's biggest public debt, Japan ratcheted up the sales tax this year to 8 percent from 5 percent. It's scheduled to reach 10 percent next year.
Quid Pro Quo
Higher estate levies, which hit people who are more affluent, are something of a quid pro quo for getting the sales tax increase approved, which weighs more heavily on the poor. The estate tax will only account for 1.7 percent of government revenue in fiscal 2015, compared with the sale tax's 17 percent, according to the finance ministry.
"It was really more about making a show of sharing the burden," Chuo Law School's Morinobu said.
Still, buying or building rental property may help some heirs share a lot less. That's because of complicated rules that allow property values to be discounted by as much as 76 percent. The rules made sense during the late 1980s bubble, when land prices rose so much that average people -- not just the wealthy -- often had to sell their parents' homes in order to pay the taxes. Land prices have fallen by about two-thirds since then, but the laws live on. Assessments can sometimes value a building at just a quarter of what actual buyers might pay. From there, an adjustment for rental property can knock off another 30 percent.
Tenants' Rights
The reasoning behind the law is that because Japan has such strong protections against eviction, tenants reduce the value of real estate -- rather than increase it. Never mind the rental income.
On top of all this, you can also discount the value of the land sitting under your rental apartments. Putting it all together, a condominium bought for about $320,000 could be assessed for just $75,000, an amount below the tax agency's reach. That was another PowerPoint slide, from a company called Yume Souzoku, that got attention at the estate planning seminar.
"The first time I saw that calculation I was like, wow," said Kenichi Hirano, a 55-year-old who'd come to see the presentation for a second time. He said he was figuring what to do with a vacant lot owned by his 90-year-old father.
Empty Lots
Property taxes on empty lots can be six times higher than for parcels with structures on them, according to Hidetaka Yoneyama, a senior fellow at Fujitsu Research Institute in Tokyo. Those rules are left over from the postwar era, when Japan was encouraging land owners to build housing for a growing workforce.
Those days are long gone. Still, cranking up inheritance taxes may inadvertently breathe some life into Japan's market for residential property, according to Daisuke Fukushima at Nomura Securities Co.
"It could be good for the economy," said the real estate analyst.
There's already some evidence that seniors are starting to pour money into property. People in their 60s and 70s accounted for almost a third of first-stage buyers for apartments in Proud Tower Tachikawa, a 32-story luxury condominium building on the edge of Tokyo, according to its developer, Nomura Real Estate Holdings Inc.
Units sold out 18 months ahead of schedule at another new Tokyo high-rise called Toranomon Hills. Many of the purchasers were motivated by tax concerns, according to Kosei Ajima, a general manager at the developer, Mori Building Co.
"The trend really stood out," he said.
Shrinking Population
To be sure, a population forecast to shrink by almost a third in the next 45 years makes buying Japanese real estate a risky proposition, says Hideo Kumano, chief economist at Dai-ichi Life Research Institute Inc. Across the country, one in five apartments already sits vacant, according to government estimates.
"I don't know of anyone who's really been successful investing in rental property," Kumano said. "Who's going to live in the buildings?"
For Minoru Nishino, a retiree whose mother is in her late 80s, the estate tax was a more immediate concern. Nishino convinced his mother this year to let him build a two-story rental apartment on an empty lot she owned on Tokyo's outskirts.
"I've been worrying about what to do with the land for a few years now," he said, standing next to the construction site where workers were starting to dig a foundation. "One of these days I'm going to inherit it, and I need to find a way to pass it down to the next generation."
Before it's here, it's on the Bloomberg Terminal.
LEARN MORE