IBM's Watson to Tap Twitter to Help Clients Make Decisions
Alex Barinka and Sarah Frier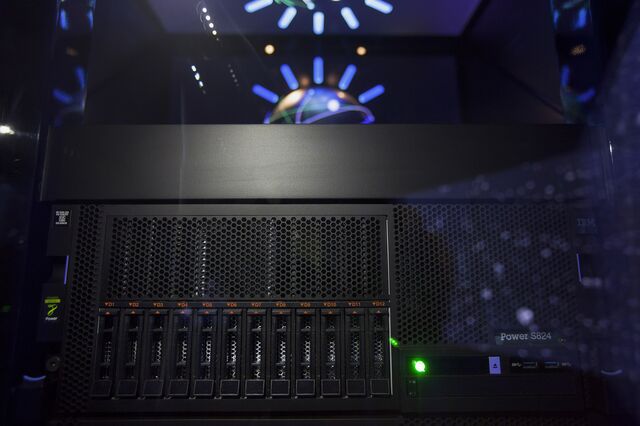 International Business Machines Corp. will help clients use Twitter Inc.'s social networking to make business decisions, a deal that lets both companies harness a surge of consumer data to find new sources of growth.
IBM software, including its Watson artificial-intelligence technology, will be able to mine posts on Twitter for information about what a client's customers are saying about its product or about trends in a market. The companies will train thousands of IBM consultants on how to use Twitter data for business, they said in blog posts today.
Ginni Rometty, IBM's chief executive officer, is betting on analytics software to help revenue expand as traditional hardware and consulting businesses slow. The Twitter agreement, along with a July deal with Apple Inc., shows how IBM is looking to Silicon Valley as it seeks to turn around after 10 straight quarters of falling sales.
"Growth has been elusive at best at the company for a number of quarters," said Scott Kessler, an analyst at S&P Capital IQ Inc. "They're partnering with very visible companies perceived as leading innovators."
For Twitter, the accord highlights the company's ability to make money off its data stream even as user growth slows. Rometty worked personally with Twitter CEO Dick Costolo on the partnership, she said in a video shown today at an IBM event.
"Twitter has created something extraordinary -- a new and growing class of data," she said.
The Twitter alliance will first target business users handling sales, marketing and customer service, Armonk, New York-based IBM said. The companies also will develop services for the banking, consumer products and transportation industries.
Unprecedented Access
IBM is getting "unprecedented commercial access" to Twitter's data because the corporate technology-services company will help the microblogging platform expand in areas where it's not an expert, said Seth McGuire, senior business development manager at Twitter.
"What we're good at is building a consumer app," he said in an interview. "We want to put the data in their hands to start to enable them to innovate on it. The vision we have with this data is it's going to be valuable for any company."
The companies didn't provide financial terms of their pact or specifics on how IBM's access to the microblogging data will compare with the information available to Twitter's other commercial partners. Services from the alliance will be available starting in the first quarter of next year. James Sciales, an IBM spokesman, didn't immediately respond to requests for comment.
Faster Growth
IBM's need to build up new businesses, like data analytics and cloud computing, became more urgent last week when Rometty had to abandon a long-held earnings forecast for 2015 in order to focus on accelerating investments in growth areas. The shares fell to a three-year low last week and are down 10 percent since the earnings report.
Last year, IBM had about $16 billion in sales from data analytics software and services, a figure it has said will rise this year.
Twitter has been working to develop sources of revenue besides advertising after acquiring data-stream partner Gnip for $134 million this year. The San Francisco-based company said data licensing accounted for $41 million of Twitter's $361 million in third-quarter sales.
"This is a huge milestone for all of us at Twitter," Costolo said in a video at the IBM event. "We know businesses have only scratched the surface of what's possible."
Incremental Sales?
While Twitter said earlier this week that third-quarter revenue doubled, its user growth slowed, rising 23 percent to 284 million, down from 24 percent growth in the prior period. The company's stock fell 9.8 percent the day after the report.
Today, Twitter shares fell 3.9 percent to $42.08 at the close in New York. IBM's stock was little changed at $163.46.
"People think of IBM as a legacy enterprise provider and not a cutting-edge company with thousands of patents," said S&P's Kessler. "Whether that translates into incremental sales, that remains a big question."
Before it's here, it's on the Bloomberg Terminal.
LEARN MORE