Hong Kong Stocks Erase Losses Since Start of Protests
Jonathan Burgos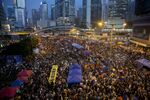 Hong Kong stocks rose, with the Hang Seng Index erasing losses since police fired tear gas at pro-democracy demonstrators last month, as protest leaders provided terms for talks with the government and amid earnings optimism.
Ping An Insurance (Group) Co. and China Life Insurance Co. gained at least 2.2 percent after the biggest mainland insurers posted higher profits. Macau casino operators Galaxy Entertainment Group Ltd. and Sands China Ltd. led gains on the Hang Seng Index after Wynn Macau Ltd. reported profit that beat estimates. BYD Co., a Chinese automaker partially owned by Warren Buffett's Berkshire Hathaway Inc., climbed 5 percent after a report Guangzhou approved electric-vehicle subsidies.
The Hang Seng Index advanced 1.3 percent to 23,819.87, the highest close in a month. The measure has climbed 0.6 percent since Sept. 26, before police used tear gas in a failed attempt to disperse protesters on Sept. 28. Leaders of the movement have set conditions to resume talks with the government, potentially paving the way to end demonstrations that have now stretched into a fifth week.
"It's been quiet the last few days, so investors are less concerned about ongoing protests," Castor Pang, head of research at Core-Pacific Yamaichi in Hong Kong, said by phone. "Investors are switching their focus on corporate earnings. That's helping to boost the market momentum. The Federal Reserve will probably keep interest rates low for the time being given that growth in the U.S. remains uneven."
Trading Link
Shares also rallied after Hong Kong's stock regulator said it has completed preparatory work for a planned trading link with Shanghai's bourse. The China Securities Regulatory Commission, which has yet to indicate whether it's ready for the link, didn't reply to two calls and an e-mail seeking comment. Hong Kong & Exchanges Clearing Ltd. Chief Executive Officer Charles Li said on Oct. 27 that authorities hadn't signed off on the link and he had no idea when it will begin.
Futures on the S&P 500 slipped 0.1 percent today after the underlying gauge rallied 1.2 percent yesterday. Earnings from Amgen Inc. to T-Mobile US Inc. helped drive shares higher before the Fed's policy announcement. The S&P 500 has rebounded 6.6 percent from a six-month low on Oct. 15 amid better-than-expected profits.
Almost 79 percent of S&P 500 companies that have reported quarterly results have beaten earnings estimates, while 62 percent have surpassed revenue projections, according to data compiled by Bloomberg. Profit for S&P 500 companies rose 6.3 percent in the third quarter and sales increased 4.1 percent, analysts predicted.
Fed Chair Janet Yellen and her colleagues will focus on the U.S. economic outlook and end their bond-buying program today as planned, according to 62 of 64 economists surveyed by Bloomberg News. Minutes from the last meeting, when policy makers pledged to keep U.S. borrowing costs low for a considerable time, showed officials expressed concern that U.S. growth may be at risk from a global slowdown.
Before it's here, it's on the Bloomberg Terminal.
LEARN MORE