Deutsche Bank Replaces Executives as Legal Expenses Soar
Nicholas Comfort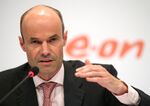 Deutsche Bank AG, Germany's biggest lender, is replacing its finance and legal chiefs as mounting litigation expenses wiped out quarterly profit and the firm begins talks to settle probes into alleged market rigging.
The bank swung to a net loss in the three months through September after setting aside 894 million euros ($1.1 billion) for litigation, the Frankfurt-based company said yesterday. It named Goldman Sachs Group Inc.'s Marcus Schenck to succeed Stefan Krause as chief financial officer and promoted Christian Sewing to the board to oversee the firm's legal affairs.
Deutsche Bank is among institutions accused of attempting to manipulate currency markets and said it's in talks with authorities to resolve its role in the industrywide rigging of benchmark interest rates. It is also under investigation for doing business with countries subject to U.S. sanctions, including Iran, while authorities in Germany and the U.S. have criticized its accounts and regulatory reports.
"The number and level of executives being replaced point to a house-clean," said Mark Williams, a former bank examiner for the Federal Reserve and now a lecturer at Boston University's School of Management. "This type of regime change creates instability and you would only do it if you think it will restore stability."
A Deutsche Bank spokesman in Frankfurt declined to comment on the management changes beyond the company's statement. A spokesman for German regulator Bafin didn't immediately respond to a voice mail and e-mail left outside regular working hours.
Deutsche Bank shares fell 2.4 percent to 24.65 euros, valuing the bank at 34 billion euros. The shares dropped 25 percent this year, compared with a 2.6 percent decline in the Stoxx Europe 600 Banks Index.
ECB Oversight
The costs of resolving accusations of wrongdoing have eroded the company's ability to build capital to meet looming regulatory requirements and pushed co-Chief Executive Officers Anshu Jain and Juergen Fitschen to sell 8.5 billion euros of stock earlier this year.
Deutsche Bank is one of 105 lenders that passed the European Central Bank's yearlong probe of bank balance sheets and its economic survival tests. The company still faces rules that will require banks to sell more debt that can be written off in a crisis.
The lender is also working to increase capital as a share of total assets as the ECB prepares to assume oversight of the region's biggest banks, including Deutsche Bank, on Nov. 4.
As part of the management overhaul, Krause will assume a new position overseeing strategy as Deutsche Bank adapts to changing regulatory requirements. Schenck, a Goldman Sachs partner and former CFO of German utility EON SE, will replace Krause after the annual general meeting next year.
Monte Paschi
"The problems are much deeper than what we see" at Deutsche Bank, said Tom Kirchmaier, a fellow in the Financial Markets Group at the London School of Economics. "Why didn't they promote someone from the inside for the CFO role? It's puzzling. It would have been a natural choice."
The New York Federal Reserve wrote to the bank in 2013, saying errors in regulatory reports showed inadequate oversight of U.S. operations, Bloomberg News reported in July. Separately, the bank said in June that regulators were probing failures by management to supervise individuals who arranged deals for Banca Monte dei Paschi di Siena SpA, transactions the Italian bank used to hide losses.
Deutsche Bank's own accounting of those borrowings also drew regulatory scrutiny. The German bank said in January it adjusted how it accounted for the deal after uncovering new facts amid an investigation by Germany's regulator Bafin, a probe it said was ongoing at the time.
Legal Head
"The Monte Paschi accounting was definitely a major blow for the bank," Lutz Roehmeyer, who manages $1 billion including Deutsche Bank shares, at Landesbank Berlin Investment, said by phone. "It hurt the company's credibility in the eyes of their main regulator and Bafin made it clear that another such blunder would have dire consequences."
Sewing, head of group audit, will take over responsibility for legal matters from Stephan Leithner, 48, who will continue to head regulatory affairs, compliance and personnel and coordinate the bank's cultural change programs.
Soaring legal costs prompted the supervisory board in July to suspend this year's deferred bonus payments for 2011 for seven top managers, including Krause, Fitschen and Jain, a person with direct knowledge of the matter said last month.
Deutsche Bank's legal costs in the quarter compare with 1.16 billion euros in the same period last year. In 2013, it racked up 3 billion euros in litigation expenses, in part for a 1.4 billion-euro settlement over claims it didn't provide adequate disclosure about the risks of mortgage-backed securities sold to government-backed lenders Fannie Mae and Freddie Mac during the U.S. housing boom.
Market Share
"The lingering litigation is troublesome," said Bill Fries, a managing director at Santa Fe, New Mexico-based Thornburg Investment Management Inc., which oversees $74 billion of stocks and bonds. "You'd like to think they've got their arms around the problem, but there's not a lot of visibility, so it's a risk."
Jain is betting the firm can grab market share in fixed income as some competitors retreat.
The bank reported higher-than-estimated revenue from trading fixed income and currencies, its biggest sales generator. Sales in the unit rose 15 percent to 1.44 billion euros from a year earlier, beating the 1.39 billion-euro average of five analysts' estimates compiled by Bloomberg News. The debt business accounted for 21 percent of Deutsche Bank's 31.9 billion euros in revenue last year.
"They did OK on an operating level, but I'm concerned about costs," Christian Hamann, an analyst with Hamburger Sparkasse said by phone. "They're going to face ongoing legal expenses for a while longer."
Before it's here, it's on the Bloomberg Terminal.
LEARN MORE