Christie Yet to Rewrite New Jersey's Economic Narrative
Elise Young, Terrence Dopp and Michelle Kaske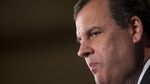 During his inauguration in January 2010, Chris Christie cast New Jersey as a state poised to sprint out of the recession.
"While the economic hour is dark, there are brighter days ahead," the governor said at the Trenton War Memorial across the street from the statehouse. "We have the tools to win the battle for a better future."
By the end of his first term, economic indicators told a story of a state falling behind. Job growth in Christie's first term was less than a third that of neighboring New York, according to data compiled by Bloomberg. Pennsylvania outstripped the state's 15 percent expansion in the value of goods and services produced by 4.4 percentage points. Adjusted for inflation, New Jersey's median household income declined
12.2 percent, compared with a drop of 3.9 percent nationwide.
Christie, 52, has yet to rewrite that narrative, traveling around the country as chairman of the Republican Governors Association while he says he's considering a run for the presidency. New Jersey's lagging growth and swelling pension obligations have contributed to eight credit-rating downgrades, a record for a chief executive of the state.
"New Jersey is certainly struggling," said Michael Wolf, an economist at Wells Fargo Securities LLC in Charlotte, North Carolina. "The big, big problem is just that the state isn't adding jobs."
Tax Cuts
Nor is it raising taxes. Cutting them has been Republican dogma for decades, as party politicians contend that the U.S. economy is suffocated by excessive burdens on businesses and individuals. Increasing taxes is also anathema to Christie, who told Fox News Oct. 26 that he expects to announce early next year whether he'll seek the Republican nomination in 2016.
In the almost five years that Christie has been governor, those with the most at stake in financial markets have signaled shrinking confidence that he can reverse a deteriorating outlook.
The extra yield investors demand to hold 10-year New Jersey general-obligation bonds rather than benchmark debt reached 0.52 percentage point yesterday, after widening to as much as 0.59 percentage point Sept. 22, the most since at least January 2013, data compiled by Bloomberg show. A year ago, the gap was 0.27 percentage point.
State's Direction
New Jersey's failure to set enough aside to pay for retirement benefits is hurting its standing with investors. In 2013, it made 28 percent of the required pension contribution, the worst among U.S. states, according to Loop Capital Markets, a bond underwriter in Chicago. In June, Christie reneged on a promise to pay an extra $2.5 billion for fiscal 2014 and 2015.
"Once that pension payment wasn't made and the agreement was broken, it makes it challenging for agreements going forward," said Daniel Solender, who helps manage $16 billion of munis at Lord Abbett & Co., in Jersey City, New Jersey. "Negative trends at the state level and the concern about the direction of the state" are adding to borrowing costs, he said.
New Jersey is rated A1, the fifth-highest level of investment grade, by Moody's Investors Service. Only Illinois has a lower Moody's rating among U.S. states.
'Strong Reception'
While New Jersey's Standard & Poor's ranking of A, the sixth-highest level, is the same as California's, Democratic Governor Jerry Brown's state is on track for an upgrade as revenue exceeds his estimates. Investors demand close to 0.3 percentage point less in extra yield to own 10-year California debt than New Jersey's, Bloomberg data show.
New Jersey's borrowing has been met with "strong reception" and "favorable rates," said Chris Santarelli, a spokesman for state Treasurer Andrew Sidamon-Eristoff.
"This administration has and will continue to highlight the long-term fiscal and economic challenges posed by public-employee pension and health benefits and the need to bring about additional reforms," Santarelli said by e-mail.
Christie has benefited from higher demand for municipal debt as local governments pare issuance. Relative borrowing costs on New Jersey general-obligation sales, used to pay for public-works projects, have been comparable with those of his predecessors.
Democrats Blamed
In May 2013, the last sale of such debt, 10-year securities priced to yield 0.02 percentage point less than benchmark munis, data compiled by Bloomberg show. That compares with a gap of
0.08 percentage point below top-rated debt in December 2009, for the final offer under Jon Corzine, a Democrat and former co-chairman of Goldman Sachs Group Inc. For the last general-obligation issue under Republican Christine Whitman in May 2000, the state paid about 0.1 percentage point above benchmark bonds.
New Jersey is trailing New York, Pennsylvania and the nation as a whole after suffering more severe employment declines during the recession. Its economy also was struck harder by the housing crisis and has been slower to recover, Wells Fargo said in a June report.
That slower recovery has had Christie defending his policies, which include tax breaks and reduced business regulation. Christie says it will take more time to fix deficiencies his predecessors created.
'Awful Mess'
"You have to remember what we inherited five years ago -- an $11 billion budget deficit, 10 years of consecutive tax increases at the state level -- this was an awful mess," Christie said on Fox News.
"What have we done?" he said. "We have five balanced budgets in a row. We've had $2.3 billion in tax cuts to the businesses of New Jersey, 143,000 new private-sector jobs and an unemployment rate that's gone from 9.7 percent down to 6.5 percent."
State tax collections, after missing Christie's projections for three straight years, are increasing more than he forecast in fiscal 2015, according to the state treasury department.
Christie is pushing unions and Democrats for more concessions, saying his 2011 pension overhaul didn't go far enough. Democrats, who lead the legislature, say he won't get their support without full payments.
"This pension problem is not only getting bigger, but there's real political gridlock over it," said Peter Hayes, who oversees $122 billion as head of municipal bonds at New York-based BlackRock Inc.
Business Encouragement
Christie still is reducing business taxes. Through fiscal 2015, he has cut more than $1.6 billion.
"The business community is still very much in favor of what he's doing and encouraging him to continue to do it," said Thomas Bracken, president of the state Chamber of Commerce. "We are overall the worst-taxed state in the union or close to it."
Bracken said it's unfair to compare New Jersey with New York and Pennsylvania because Hurricane Sandy in October 2012 touched every part of the Garden State's economy, causing $37 billion of damage.
During an event today in Toms River for Sandy's two-year anniversary, Christie said the storm sidelined the recovery.
"It was an enormous blow," he said as he toured a marina damaged in the hurricane. "The state was essentially shut down completely for two weeks and out of business."
2009 Victory
John Catsimatidis, a Christie donor and the billionaire owner of real estate and energy conglomerate Red Apple Group Inc., said the governor did the best with what he had.
"Is it perfect? No," said Catsimatidis, the 66-year-old Republican who ran for New York mayor last year. "But not even in my dreams do I see anyone in New Jersey doing any better."
Tax-cutting doctrine under Governor Sam Brownback has helped weaken Kansas's credit standing. S&P cut the state's rating by one level to AA, the third-highest measure of investment grade, in August following a similar move by Moody's in April. S&P cited pressure on the budget from tax cuts, which resulted in the state's taking in about $340 million less than forecast in its last fiscal year.
Christie was the first Republican governor elected since 1997 in a state where Democrats outnumber the opposing party by more than 700,000 registered voters.
Campaigning in 2009 to unseat Corzine, the former federal prosecutor spoke of a "corruption tax" that residents shouldered from politics that favored insiders. Voters rejected the one-term incumbent's handling of the economy. Corzine left the state with the highest unemployment rate in three decades as the nation emerged from an 18-month recession, the longest since the Great Depression.
Corzine didn't respond to an e-mail asking for comment.
'New Era'
During the 2010 inaugural speech, Christie said a "new era of lower taxes and higher growth" had arrived.
He cut public worker benefits, fought unions, vetoed tax increases on the rich and, citing potential overruns, killed a $12.4 billion commuter-rail tunnel to Manhattan that the Government Accountability Office said would've been half financed with federal money. That cost the region $9 billion in business activity and 44,000 permanent jobs, the GAO said.
Job growth in Christie's first term of 1.71 percent compares with 5.62 percent for New York, according to the U.S. Bureau of Economic Analysis. While New Jersey's jobless rate has dropped by 0.7 percentage point this year to 6.5 percent as of September, it remains higher than those in New York and Pennsylvania. The U.S. rate declined 0.8 percentage point to 5.9 percent.
Historic Contrast
The value of New Jersey's goods and services produced, or gross state product, expanded 15 percent in the four years ended in December to $543.1 billion, Bureau of Economic Analysis data show. Pennsylvania grew 19.4 percent to $644.9 billion.
Household income in New Jersey fell 12.2 percent to $61,782 during Christie's first term, compared with a 3.9 percent drop for the U.S. to $51,939, according to U.S. Census figures adjusted for inflation.
The economic performance during Christie's first term contrasts with how the state fared after the eight-month national recession that ended in November 2001.
For the four years ended November 2005, New Jersey, with job growth of 1.4 percent, outpaced that in Pennsylvania, at 1.3 percent, and New York, at 1 percent. On median household income from 2001 to 2005, New Jersey's 11 percent increase compared with a decline of 0.5 percent for the U.S., accounting for inflation.
November Win
For all of the state's economic challenges, the governor was re-elected last November, winning over Democrats and independents with his leadership following Hurricane Sandy. Christie defeated Democratic challenger Barbara Buono of Metuchen by 22 percentage points.
Christie's popularity in New Jersey has slid since January, when e-mails showed that an aide and an ally arranged traffic jams in September 2013 at the George Washington Bridge in Fort Lee, where the Democratic mayor didn't endorse the governor for re-election.
Legal billings for Christie's office from the traffic scandal known as Bridgegate have totaled at least $7.87 million, and the matter is the subject of ongoing investigations by U.S. Attorney Paul Fishman in Newark and a legislative panel in New Jersey.
More than 50 percent of voters disapprove of his handling of jobs, taxes and the budget, according to a Rutgers-Eagleton poll this month. His favorability fell to an all-time low of 42 percent, from a high of 70 percent in early 2013.
'Dad Dance'
Christie has tried to move past the bridge affair with public appearances: gyrating for a "Dad Dance" skit alongside late-night television host Jimmy Fallon; playing third base at Yankee Stadium during a charity softball game with celebrities; traveling to Mexico for a trade mission and stumping for Republican candidates across the country.
As chairman of the Republican Governors Association since November, Christie has been to 35 states on 64 separate days in that role, according to a review of his public schedules as of yesterday.
Christie can't keep blaming his predecessors for high taxes and a poor fiscal climate, said Julian Zelizer, who teaches history and public affairs at Princeton University.
"Once you've been in office like this -- just like Obama on the national level -- it becomes your economy," Zelizer said. "He is the leader and when people measure how the economy is doing, that measure will revolve around his governorship. Ultimately, especially if he wants to run for president, the measure will be, 'How did he do?'