Bauxite Gap Seen by Alcoa's Partner as Indonesia Says Ban Stays
Jasmine Ng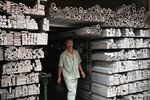 China may face a shortage of bauxite should Indonesia's ban on ore exports last into next year, according to Alumina Ltd., the Melbourne-based company whose shares rallied 48 percent this year as the curb took effect.
There's potential for a so-called bauxite gap of 10 million to 15 million metric tons as stockpiles in the country run out, and prices may rise, Andrew Wood, group executive of strategy and development, said at a conference in Singapore. Bauxite is used to make alumina, which is processed into aluminum.
Indonesia banned ore exports in January, seeking to spur investment in processing, and R. Sukhyar, director-general of minerals and coal, said today the curb will be kept in place. Before the restriction was imposed, the Asian country accounted for about 18 percent of global bauxite production in 2013 and was the largest supplier to China, according to Citigroup Inc. Alumina Ltd. is a partner with New York-based Alcoa Inc. in the world's largest bauxite and alumina producer.
"The Indonesian ban, and the extent it holds, is obviously a key uncertainty for Chinese refiners," said Wood. While there's a number of potential outcomes that will take a while to play out, all reasonable scenarios are likely to increase bauxite and alumina costs, he said.
Shares in Alumina Ltd. advanced to A$1.645 in Sydney this year as the S&P/ASX 200 Index rose 1.8 percent. Its largest shareholder is Citic Group Corp., the Chinese state-owned investment company, according to data compiled by Bloomberg.
Global Deficit
The global bauxite market will swing to a deficit of about
6.3 million tons this year from a surplus of 49.3 million tons in 2013 as production tumbles, according to Citigroup. A gap of 15 million tons is equivalent to 5.1 percent of next year's estimated mined output, according to Bloomberg calculations based on figures in an Oct. 2 report from Citigroup.
The bauxite price into China may average $75 to $80 a ton on a long-term basis, said Wood. The average price of China's bauxite imports was $59.67 a ton in September, 16 percent higher than $51.64 in January, according to Bloomberg Intelligence data.
There's potential for the Indonesian ban to be relaxed, according to Wood. The government may permit companies building alumina refineries to ship some bauxite, or allow exports of value-added bauxite that's short of alumina, he said.
Maximize Value
Sudirman Said, inaugurated as Indonesia's new energy and mineral resources minister this week, told reporters today the government would do "anything to maximize value of minerals for our nation's self-interest." Said is among officials in the cabinet of President Joko Widodo, who was sworn in last week.
China mines bauxite domestically and supplements local supplies with shipments from overseas. Before the Indonesian ban came into effect, users in China stockpiled the raw material to ensure supplies. The holdings may last a further six months, Commonwealth Bank of Australia said in report today.
"We see it as unlikely that Indonesia will change its stance on the ban," Lachlan Shaw and Vivek Dhar, analysts at CBA, wrote in the report. "We expect bauxite markets to tighten eventually but that it will be largely contingent on the bauxite stockpile accumulated in China before the ban took effect, which could last for around another six months."
Bauxite is mined near the surface and refined into alumina, an intermediate product that's further refined into aluminum, the metal used in cans and window frames. It typically takes four to seven tons of bauxite ore to make one ton of refined metal. About a third of the cost of aluminum comes from alumina, while bauxite contributes less than 10 percent, according to Paul Gait, an analyst at Sanford C. Bernstein Ltd. in London.
Aluminum is the best performing metal after nickel on the London Metal Exchange this year, rising 11 percent to $2,002.75 a ton at 5:08 a.m. in New York. The price climbed to $2,119.50 on Aug. 29, the highest since February 2013.
Before it's here, it's on the Bloomberg Terminal.
LEARN MORE