BlackBerry CEO Joins Kardashian Touting Classic Features
Gerrit De Vynck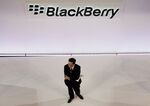 BlackBerry Ltd. Chief Executive Officer John Chen teased details today of the upcoming Classic smartphone that's designed to keep -- or lure back -- the device's traditional fans.
The BlackBerry Classic will have a bigger and sharper screen than its predecessors while keeping the keyboard, trackpad and top row of navigation keys, Chen said today in a blog post.
BlackBerry is trying to win back its former fans after ill-fated attempts to re-establish itself in the consumer market with forays into touch-screen phones. The company's smartphone market share has shrunk to less than 1 percent, according to research firm IDC. Chen has worked to refocus its products on core users who miss the days of a tangible keyboard to fire off e-mails.
"It's tempting in a rapidly changing, rapidly growing mobile market to change for the sake of change," Chen wrote. "But there's also something to be said for the classic adage, if it ain't broke don't fix it."
Reality TV star Kim Kardashian came out as a fan this week at a tech conference, saying she stockpiles BlackBerrys out of fear they'll disappear. While she also owns an iPhone for photos, the BlackBerry keyboard is needed for quickly typing out e-mails, she said.
"We are committed to earning your business –- or earning it back, if that's the case," Chen said in the blog post.
Shipping Soon
Chen has said the phone will debut by the end of the year, and Lisette Kwong, a spokeswoman for BlackBerry, said in an e-mail this week that the Classic will ship "very soon."
Chen plans to manufacture a "few more" Classics than when it released the square-screened Passport last month, he said today on CNBC.
"It took us a lot of pain and suffering and hard work to get to this point," Chen said. "I'm not going to take any unnecessary risk to the balance sheet."
Next week marks Chen's one-year anniversary since taking over as CEO, and the shares have gained 62 percent in that span. Today, the stock fell 1.3 percent to $10.51 at the close in New York.
Before it's here, it's on the Bloomberg Terminal.
LEARN MORE