Rescue Unlikely for 190 Missing in Sri Lankan Landslide
Anusha Ondaatjie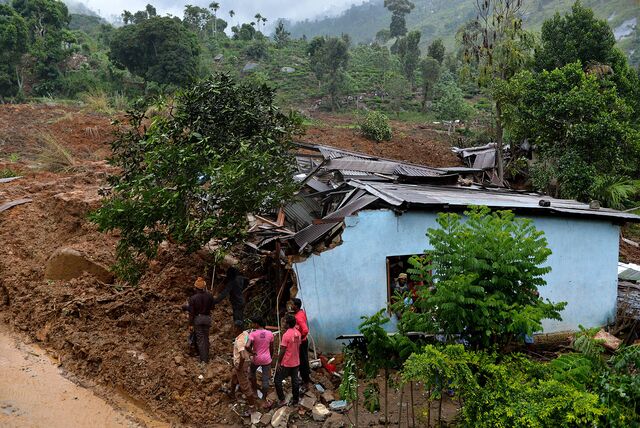 Sri Lankan rescue crews said prospects were fading for finding survivors of yesterday's landslide with about 190 people still missing, which would make it the nation's worst natural disaster since the 2004 tsunami that killed more than 30,000.
"Finding survivors is very unlikely because of the weather conditions," said General Mano Perera, who is leading the rescue operation. "The condition of the soil also would have resulted in no air pockets being created."
About 700 military personnel built a temporary access road to the site and were digging through 30 feet (10 meters) of mud beneath which people were believed buried, he said. The tragedy occurred on a tea estate in the central Badulla district, about 220 kilometers (137 miles) from the capital Colombo.
The island's Disaster Management Center today revised the number of dead to three from yesterday's announcement of six. Its missing list was cut to about 190 from 300 after children who had left for school before the disaster were later accounted for. There aren't any foreigners among the missing, said Sarath Kumara, an assistant director at the DMC.
President Mahinda Rajapaksa visited the area this morning and instructed officials "to take immediate and optimum necessary action to search and rescue the people and immediately provide all facilities required by the victims," according to his website. Neighbor India also offered assistance today, the Press Trust of India reported.
Wails, Fists
Television pictures showed mud sliding down slopes as diggers plowed through the 5-kilometer stretch engulfed by the landslide at around 7:30 a.m. yesterday. Survivors wailed and shook their fists at the sky and twisted corrugated metal roofing sheets lay among the debris.
The retreating monsoon brings rain to parts of Sri Lanka between October and December. A landslide warning has been in place since late Oct. 28 in Badulla and the adjoining hill town of Nuwara Eliya, which is frequented by tourists.
More than 800 evacuees were being housed in two schools in the area, Pradeep Kodippili, deputy director at the DMC, said today.
The tea industry contributes about 2 percent to Sri Lanka's gross domestic product and most of it is grown in the central highlands.
Before it's here, it's on the Bloomberg Terminal.
LEARN MORE