A New Poll Soothes Republican Nerves in Wisconsin
Why Scott Walker's base worries so much about voter fraud–and will worry less today.
By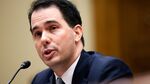 The panic over Governor Scott Walker's re-election odds began with one poll. In mid-October, the rarely wrong Marquette Law School survey found Walker tied with Democratic challenger Mary Burke, whom some Republicans had considered mortally wounded by a scandal over a jobs plan riddled with self-plagiarism by a consultant. This kicked off a cycle of Walker panic, of feuding with a Republican Governors Association that he wanted more ad money from, and of Democrats from Bill Clinton to Barack Obama hitting the state to campaign for Burke.
Today's Marquette poll, the final one before the election, finds Walker up 1 among registered voters but up 7–his best lead since spring–among likely voters. The big lead has everything to do with the expected electorate, which resembles the 2010 pool more than the 2012 pool that gave the president and Senator Tammy Baldwin easy wins.
And that may calm Republicans. This week, when I traveled through Wisconsin's Republican strongholds, I found something close to a panic about a close race that could be stolen by voter fraud. At a Saturday get-out-the-vote rally in conservative Waukesha County, headlined by Representative Paul Ryan, speaker after speaker warned that the Walker-Burke contest could be decided by faux votes from Milwaukee, the heavily segregated city down the road.
"We don't have vans that are bribing folks with cheeseburgers in the city of Milwaukee," said Vicki McKenna, a conservative talk radio host based in Madison. "Theirs is a by-any-means-necessary movement: Drag people to the polls by promising cheeseburgers and cigarettes ... they're dragging people to the polls promising everything from barbecue to smokes."
Other speakers warned voters that the city of Milwaukee–the mayor, Tom Barrett, lost two elections to Walker–was reserving special parking for vans transporting Democrats to the polls. This arguably was mitigated by a bill, signed by Walker, that restricted weekend voting, and had instilled some real fear among Democrats that their natural vote would not come out.
Yet at the rallies I saw, it was Republicans who worried that they'd be overwhelmed. At one stop of his bus tour, after Walker warned that Democrats would "gin up" turnout in Milwaukee and Madison to beat him, I asked if he worried about the legitimacy of the cast votes.
"We think, in the end, the law will be upheld that makes it easy to vote but hard to cheat," he said. "Their efforts to pay us back are probably higher motivations than our reforms are." The fear of actual Milwaukee fraud would be left to radio hosts.