Xi Hails 'Old Friend' Ghani as Afghan-China Ties Improve
Eltaf Najafizada and Ting Shi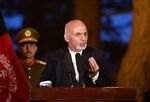 Chinese President Xi Jinping called Afghan leader Ashraf Ghani Ahmadzai an "old friend" in marking a new era in ties between Asia's biggest economy and one of the region's poorest countries.
Ghani, who took power last month, traveled to China frequently during his time as a World Bank economist. He's seeking Chinese investments and help in stemming militancy to keep his aid-dependent country stable in the next years as U.S. troops withdraw and the Taliban seeks to retake power.
"That you have made a visit to China when not even one full month into your presidency, making China your first visit abroad, fully embodies the high degree of emphasis you put on China-Afghanistan relations," Xi told Ghani in Beijing yesterday. "I am willing to work with you on a new era of cooperation in China-Afghanistan relations and take development to a new depth and breadth."
The visit shows how China is poised to play a larger role in the stability of Afghanistan, long seen as primarily a U.S. responsibility after its 2001 invasion. Taliban gains threaten to stoke Islamic militancy in China's western Xinjiang region and cut off mineral resources valued as high as $3 trillion.
Ghani, on a four-day visit, told Xi that he saw China as a "strategic partner" and welcomed its vision for boosting ties with South Asia. In a meeting with Premier Li Keqiang today, Ghani thanked him for 2 billion yuan ($327 million) in Chinese aid pledged during his trip.
'Extraordinary Act'
Ghani told Xi that Afghanistan is seeking a direct corridor with China through the Wakhan Corridor, a narrow strip of land about 140 miles long that connects the countries.
"This would allow two neighbors to unite together in a quest where your very wise policy of opening the region to China's development will allow us to move forward," Ghani said. "This is an extraordinary act of generosity and an act of wisdom to ensure that the region is lifted with China and not China alone."
He urged Chinese companies to invest in Afghanistan, in particular in the construction of roads and railways.
Ghani said he had spoken with U.S. President Barack Obama four days earlier and said Afghanistan "would be a model for cooperation between China and the United States."
The U.S. and other donors fund about 60 percent of Afghanistan's national budget, according to the Special Inspector General for Afghanistan Reconstruction, known as Sigar. Last year, the Afghan government raised about $2 billion in revenue, or less than a third of its stated budget needs.
U.S.-China Ties
The U.S. and China are cooperating on Afghanistan, Secretary of State John Kerry said this month in a joint appearance with Chinese State Councilor Yang Jiechi in Boston. While Ghani signed a security agreement last month with the U.S. to keep troops in the country beyond this year, Obama plans to reduce the number of American soldiers in the country from 22,000 to a small force in 2016 that will protect the U.S. embassy in Kabul.
China and Afghanistan share a 91-kilometer (57-mile) mountainous border near Pakistan and Tajikistan. Leaders in Beijing said Xinjiang separatist militants trained in the mountains of Afghanistan and Pakistan masterminded a March attack at a train station in Yunnan province that left about 30 people dead, Xinhua news agency reported.
"Afghanistan may be a small country, but it plays an important role in China's geopolitical consideration," Shen Shishun, a senior researcher at the China Institute of International Studies, said by phone from Beijing. "A stable Afghanistan will be a natural defense wall against separatism and terrorism spilling over the border."
Investments Stalled
In a visit to Afghanistan earlier this year, China's Foreign Minister Wang Yi said "the fate of Afghanistan will directly affect the stability and security of China's west."
Security concerns have prevented Chinese investments in Afghanistan from getting off the ground. State-owned China Metallurgical Group spent $3 billion to mine copper at Mes Aynak, about 30 miles south of Kabul, only to see the project stalled because of insurgents and the discovery of Buddhist artifacts at the site.
China National Petroleum Corp., the nation's largest oil company, agreed in 2011 to develop Afghanistan's Amu Darya basin, a project the government estimates will yield about $7 billion in profits.
Pakistan Role
Pakistan Foreign Ministry adviser Sartaj Aziz invited Ghani to visit during a recent trip to Afghanistan, spokeswoman Tasneem Aslam told reporters on Oct. 23 in Islamabad. Pakistan is ready to support Afghan attempts to reconcile with insurgents, she said.
"A stable, inclusive, peaceful, prosperous Afghanistan is in Pakistan's interest," Aslam said.
U.S. lawmakers have said Taliban leaders including Mullah Omar have been based for years in Quetta, the capital of Pakistan's Baluchistan province near the Afghan border. Pakistan denies that the Taliban leadership operates from its soil.
"China has very a close relationship with Pakistan, and both can play key roles in Afghanistan stability," Ahmad Saeedi, a former Afghan diplomat in Pakistan, said by phone. "China can help Afghanistan with trade and investments, and push Pakistan to help the Afghan peace process with the Taliban and terrorism."
Before it's here, it's on the Bloomberg Terminal.
LEARN MORE