With Top GOP Challenger Absent, Landrieu Pushes Differences With Obama
Mary Landrieu spent Monday's debate hitting her top Republican challenger, even though he wasn't there.
By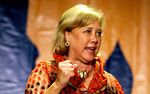 This story contains corrected material, published Oct. 27, 2014.
Senator Mary Landrieu used the absence of her top opponent in her re-election race at Monday's debate to highlight her differences with President Barack Obama and her efforts to work across the aisle during her time in office.

Landrieu called for a mandatory 21-day quarantine for health care workers returning from the West African nations central to the Ebola virus outbreak. Obama has resisted the calls and the administration has pressured governors to reverse, or avoid altogether, pursuing such a policy citing concerns discouraging workers from traveling to the region. 

Landrieu also said deploying ground troops to the Middle East to counter the rise of the Islamic State "should be an option." While she made clear she wouldn't necessarily support the use of U.S. troops, she said the administration should have it on the table. Obama has repeatedly stated that U.S. ground troops will not serve in a combat role in the region.
Representative Bill Cassidy, the top-polling Republican candidate in the race, did not attend the debate, leaving Landrieu one-on-one with Rob Maness, a second Republican challenger and former Air Force officer. Maness has been polling in the high single- to low-double digits in the race. 

Maness wasted little time trying to tie Landrieu to Obama, calling her a "rubber stamp" for what he called Obama's "failed" foreign policy efforts. He also criticized the Republican Party for a "lack of leadership," repeatedly portraying himself as the "outsider candidate" in the race. 

At Landrieu's urging, Maness also went after Cassidy, saying his policy differences with the lawmaker were "too numerous to list." Landrieu couldn't resist taking a shot at  her leading opponent as well, saying that "he does a lot of talking, but not a lot of showing up." 
For his part, Cassidy committed to two debates in the race. He has been on the campaign trail hammering Landrieu on her support for pieces of legislation backed by Obama, who is increasingly unpopular in the state. With support from the national party and an array of aligned outside groups, Cassidy has consistently led Landrieu in head-to-head polling. The race is considered central to Republican plans to flip the six seats needed to take control of the Senate. 
While Landrieu distanced herself from the president on some of the most pressing issues of the day, she did not back down on her support of some of Obama's achievements, most notably on the administration's signature health care law. She also refused to cast blame on the second-term president for any potential loss. 

Should she lose, Landrieu said, "this loss will be on me—I just didn't explain my record well enough—not him."

The Real Clear Politics polling average of a head-to-head race has Cassidy up by nearly six points, but the with Maness in the mix, Landrieu has kept a small edge in the polling for an open primary. Still, the three-term incumbent is nowhere near the more than 50 percent needed to avoid a Dec. 6 runoff election. 

Landrieu said she things she has "an excellent chance" of avoiding a runoff and reaching the majority threshold next week. 

A Suffolk University/USA Today poll released Monday showed Landrieu sitting with a 36 percent approval rating and Obama, who Republicans around the country are doing their best to tie all Democrats to this campaign season, 32 percent.

So what does that mean for the race? The public polling shows Landrieu has work to do, but it's worth noting that when it comes to runoffs, things aren't necessarily what they appear. Enthusiasm for a race is crucial in runoffs -- pulling voters out for a second time isn't always the easiest proposition. Should the voters come out, whether undecideds and those currently supporting Maness will trend toward Landrieu will be crucial. Aaron Blake over at the Washington Post has a good take at why that may be a problem for the incumbent based on the Suffolk poll:


 As Suffolk pollster David Paleologos notes, 89 percent of Maness supporters and 60 percent of undecided voters have an unfavorable opinion of Landrieu. These are the people Landrieu would need to win over in order to get to 50 percent plus one Dec. 6.
Perhaps the wildest of wild cards? The Southeastern Conference football championship game is on Dec. 6. Louisiana State University hasn't exactly rolled through the SEC schedule this season, suffering two early conference losses. But a big win over the University of Mississippi last weekend may be the spark the Bayou Bengals need to go on a run. Naturally, that should mean the Nov. 8 game in Death Valley against the University of Alabama is a must-watch for politicos everywhere.
An earlier version of this story gave an incorrect date for the LSU-Alabama game in the final paragraph.