WHO Makes Plea for More Health Workers to Fight Ebola
Simeon Bennett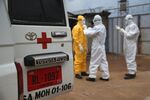 Thousands of people are "desperately" needed to help combat West Africa's Ebola outbreak and governments that are quarantining volunteers and workers who help fight the virus's spread may jeopardize the response, the World Health Organization said.
After a New York doctor was diagnosed with the Ebola virus last week, governors Andrew Cuomo of New York and Chris Christie of New Jersey announced policies requiring 21-day quarantines for anyone returning from a country with an Ebola outbreak. Australia said today it was temporarily suspending visas for travelers from countries affected by Ebola. Such measures may be counterproductive, the WHO said.
"We keep calling for health workers," Tarik Jasarevic, a WHO spokesman, said at a briefing in Geneva today. "They are really the key to this response. These people should not be treated when coming home in a way that they would be stigmatized by the rest of the population."
The agency said 230 additional teams of as many as 10 people are needed to help bury Ebola victims in the three hardest-hit countries, Liberia, Sierra Leone and Guinea. The WHO has set a target to isolate 70 percent of cases and safely bury 70 percent of the dead within 60 days by December.
African nations have pledged to send at least 1,000 health-care workers to Ebola-affected countries, African Union Commission Chairwoman Nkosazana Dlamini-Zuma told reporters today in the Ethiopian capital, Addis Ababa.
At least 5,000 visiting medical workers are needed at any one time to help control the spread of the disease, and staff needs to rotate to stay effective, World Bank President Jim Yong Kim said at the briefing, which was also attended by United Nations Secretary-General Ban Ki-Moon.
The restrictions imposed by the U.S. and Australia have put pressure on health care workers and "are not based on science," Ban said in a statement yesterday.
"The best way for any country to protect itself from Ebola is to stop the outbreak at its source in West Africa," Ban said.
Before it's here, it's on the Bloomberg Terminal.
LEARN MORE