The Problem With Swash, Whirlpool's New Not-Quite-Laundry System
By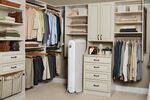 The trouble with selling washing machines and dryers and dishwashers is that they tend to last a really long time—especially these days. When a household budget gets tight or the job market wobbles, it's pretty easy to not buy a new front-loader.
That's why companies such as Siemens and General Electric are getting out of the appliance game. Over the past 10 years, annual appliance sales in the U.S. slid 24 percent, according to Euromonitor. And while prices for home have rebounded, those for appliances haven't.

Slashing prices or fixing the global economy notwithstanding, one response to this sticky stretch is to create an entirely new product that customers can discover they want. And so Whirlpool and Procter & Gamble have given us the Swash—a cross between a garment-bag, a suitcase, and a steamer that promises to kind of, sort of, clean your clothes. The devices hit Bloomingdale's (and airport lounges) about three months ago.
It's a brilliant bit of engineering inspired by agricultural irrigation systems. Customers who hang a piece of clothing on the Swash hangar, pop in a pack of liquid chemicals, can take out a significantly fresher and less wrinkled garment 10 minutes later. But who's going to buy a Swash?
Whirlpool is pitching the device as a way to cut down on dry cleaning bills. "Saves you time, saves you money, saves your clothes," the Web pitch reads. In theory, a young corporate climber won't have to take the power suit in quite so often. But the Swash costs $499—equivalent to 125 shirts at the dry-cleaner I frequent, or roughly one year's worth. The thing may be quick and efficient but at more than four feet tall and 80 pounds, it's not small, even if it's smaller than a washer/dryer. That makes it a hard sell for anyone living in a tiny starter apartment.

Nor are affluent families, which have the income and square footage to accommodate a nifty new device, a slam dunk. The Swash is like Febreze (a second P&G product, not incidentally); it de-wrinkles and deodorizes, but it doesn't really clean garments. And wealthy families have yet to balk at spending money on laundry or dry cleaning. "You can't really get through life without a washing machine, but you can get through life without this," Lloyd Shefsky, a professor at the Kellogg School of Management, told Bloomberg.
The sweet spot, then, is probably hotel rooms and airport lounges, the dens of corporate nomads. Maybe that's enough of a market, although laundry-services make a lot of money for hotels.
But what do I know? Bryan Aown, Whirlpool's director of innovation, said he's worried that the company won't be able to make them fast enough. In a way, the Swash echoes the Swiffer, arguably P&G's last big hit. Compared to a mop, Swiffers aren't great at cleaning floors; they're not even all that cheap, once the disposable pads are factored in. Still, they have become ubiquitous, from ramen-fueled crash pads to mansions in the Hamptons. With the Swiffer, P&G built a $600 million business in just a few years.
Whirlpool, meanwhile, is doing just fine with traditional appliances, particularly new high-tech models that come with steep price tags. Sales in the recent quarter ticked up 3 percent, to $4.8 billion, according to data released on Tuesday morning. Profit surged 18 percent, to $235 million. So why try to spiff things up with the Swash? Because corporate innovation is like laundry: you want to do it before you run out of underpants.