U.K. Plans Weather Supercomputer Heavy as 11 London Buses
Alex Morales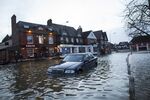 The U.K. will build a supercomputer as heavy as 11 double-decker buses to better predict the nation's famously erratic weather and the effects of climate change.
The 97-million pound ($157 million) Cray Inc. computer will be 13 times speedier than the International Business Machines Corp. system now used by the government's Met Office weather forecaster, according to a statement today. At peak performance, it will be able to carry out 16,000 trillion calculations a second.
Britain will derive 2 billion pounds of benefit from the computer through 2020 with more detailed warnings of drought and floods to help protect homes and businesses, the Department for Business, Innovation and Skills said.
"The new supercomputer, together with improved observations, science and modeling, will deliver better forecasts and advice to support U.K. business, the public and government," Met Office Chief Executive Rob Varley said in the statement. It "will lead to a step change in weather forecasting and climate prediction and give us the capability to strengthen our collaborations" with other researchers.
"It will help to make the U.K. more resilient to high impact weather and other environmental risks," he said.
Airports will benefit from improved warnings of fog, strong winds and snow, the department said in the statement. Food producers, processors and retailers will gain from higher quality forecasts, which will also help protect infrastructure and aid wind-farm operators. Improved long-term modeling of climate change will help Britons adapt, the government said.
The computer will be partly housed at the Met Office's headquarters in Exeter, southwest England, and partly at a nearby science park, according to the government. It's due to begin operating in September, reaching full capacity in 2017.
The 140 metric-ton machine will have 17 million gigabytes of data storage and 2 million gigabytes of memory for calculations.
Before it's here, it's on the Bloomberg Terminal.
LEARN MORE