Twitter CEO Says User Growth Is 'No. 1 Priority'
Sarah Frier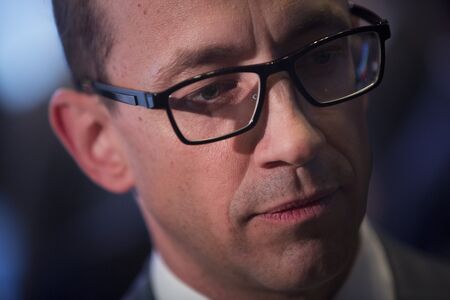 Twitter Inc. reported another quarter of decelerating user growth, triggering a selloff in shares and putting pressure on Chief Executive Officer Dick Costolo to prove that he can attract more users and advertisers.
Active members on the social network rose 23 percent to 284 million, the San Francisco-based company said in a statement yesterday. That compared with an increase of 24 percent in the prior period and follows at least a dozen quarters of slowing growth. The stock fell 9.8 percent.
"It's the number that we delivered into the market and it's our number one priority," Costolo said in an interview following the earnings announcement. "We have an aspiration to build the largest daily audience in the world."
To reach that goal, Twitter would have to quadruple its audience to challenge Facebook Inc.'s audience of more than 1.32 billion people. Costolo has replaced executives and introduced new products this year as he sought to reassure investors that Twitter, which went public in November, has room to grow. The company has pushed further into mobile advertising and services for other application developers, moving away from relying on its main website to generate traffic and ads.
"They need user growth to be higher if they want to keep attracting the attention of marketers," said Nate Elliott, an analyst at Forrester Research Inc. "They're moving in the right direction, considering this time last year we were wondering if they could kick-start growth at all. But they'll want to move faster in that direction."
Sales more than doubled to $361.3 million, topping the $351 million average analyst projection compiled by Bloomberg.
Shares Drop
Costolo said he's planning to make Twitter easier to use, develop a better messaging service, draw more visitors with exclusive Hollywood content and work with mobile-application developers to expand the company's services. Still, the company "must increase our overall pace of execution," he said on a conference call yesterday.
Twitter shares dropped to $43.78 at the close in New York. The shares are down 40 percent from a record of $73.31 on Dec. 26, although they have climbed from a May 23 low of $30.50 this year on signs that user growth is recovering.
The company said its third-quarter net loss widened to $175.5 million, or 29 cents a share, from $64.6 million, or 48 cents, a year earlier, compared with analysts' average projection for a loss of 29 cents.
Members viewed their Twitter timelines more often, with 181 billion views, up from 173 billion in the prior quarter, the company said. Mobile advertising was 85 percent of total ad revenue in the third quarter, Twitter said. International revenue more than doubled to $121 million, making up 34 percent of total sales.
Wider Platform
The expansion comes after Costolo replaced his top executives to speed up product introductions and figure out more ways to make money from the service. After internal disputes, Costolo replaced the chief financial officer and heads of consumer product and engineering, and ousted Chief Operating Officer Ali Rowghani.
For the fourth quarter, Twitter forecast revenue of $440 million to $450 million, compared with the average estimate for $448.1 million.
Twitter last week made a pitch to developers to work with its tools in a bid to get more applications using its mobile-advertising marketplace, MoPub. The company is also aiming to sell more ads as Twitter messages gain impact outside of the website, on news sites and TV shows.
"They're changing the narrative of what Twitter is," said Brian Wieser, an analyst at Pivotal Research. "There is an attempt on the part of the company to position itself as a platform first as opposed to this place where people happen to tweet."
Before it's here, it's on the Bloomberg Terminal.
LEARN MORE