The Harry Reid Election
Even newspaper editorial boards are piling on the Senate Democrats' stewardship of the Senate.
By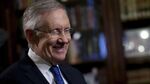 Georgia's race for U.S. Senate has become a wellspring of hope for Democrats who fear they're going to lose purple state seats. Michelle Nunn, the senatorial scion making her first run for office, is basically tied with Republican businessman David Perdue. The Republicans, who have not lost a major Georgia race since 2000, are reminding voters that Nunn is a Democrat, and that electing her would keep her party running the Senate.