The Harry Reid Election
Even newspaper editorial boards are piling on the Senate Democrats' stewardship of the Senate.
By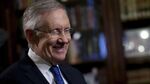 Georgia's race for U.S. Senate has become a wellspring of hope for Democrats who fear they're going to lose purple state seats. Michelle Nunn, the senatorial scion making her first run for office, is basically tied with Republican businessman David Perdue. The Republicans, who have not lost a major Georgia race since 2000, are reminding voters that Nunn is a Democrat, and that electing her would keep her party running the Senate.
"I met a farmer recently who told me that if David Perdue wants to run against Harry Reid, he should move to Nevada," said Nunn in yesterday's televised debate. (The farmer was a nice touch.) 
Pressed for details, Nunn promised to say "to Harry Reid and Mitch McConnell that we need to do something different." She did this a few hours after Rick Weiland, the Democrats' underdog candidate in South Dakota, reiterated to me and other reporters that he would not support Reid to lead the Senate.
There's a lot of that going around, and the press has noticed. Inside Washington, Democratic strategists think that Harry Reid's Q-rating remains low, and that Republicans are talking amongst themselves when they promise to save the Senate from the Nevadan. Yet we've started to see newspaper endorsements that put blame for Senate dysfunction on Reid. From the Charleston Daily Mail, in its endorsement of Republican Shelley Moore Capito over Democrat Natalie Tennant:
Tennant would bring more of the same to the current Democratic majority in the U.S. Senate, where the chamber formerly known as the greatest deliberative body of all time has become the greatest do-nothing body under Majority Leader Harry Reid.
From the Richmond Times-Dispatch, endorsing Republican Ed Gillespie over Democrat Mark Warner:
We would like to see Congress begin to function as the Founders intended — debating, amending and, from time to time, passing legislation that can help release the country from its many current constraints. We don't believe that can happen until Nevada Sen. Harry Reid, who has turned the Senate into a legislative catacomb, is removed as its majority leader. Virginia can help accomplish that worthy goal by electing Gillespie to the United States Senate.

Warner's vote to support Reid as Senate leader, which is sure to be repeated if the Democrat returns to Congress, has ensured the gridlock that Virginia's senior senator so often laments. Reid has killed numerous serious ideas emanating from the House of Representatives, including many originated by Virginians serving in the lower chamber.
Even the Denver Post's endorsement of Cory Gardner suggested that he could shake up a "dysfunctional" Congress -- sure, he was part of that Congress, but not yet part of the Senate. This is what you might call a complete triumph of Republican messaging. The "stalled bills" mantra has been with us since 2011, as you'd expect in divided government. It's just flourished in 2014, in the wake of the shutdown that temporarily damaged the GOP. During that crisis, Republicans passed "piecemeal" bills that could have kept the most popular aspects of the government funded. They did not really get credit from voters for this. But they locked onto the mantra that a "do-nothing Senate" was stalling bills. When he fell behind in polling, Kansas Sen. Pat Roberts called Harry Reid a "dictator" who was probably stalling the legislation you, the voter, could use right now.
Inside Washington, the "dictator" line was seen as a gaffe. (It doesn't help Roberts that everything he said is viewed as desperate palaver by a senator who needs to shore up conservative Republicans, fast.) But incrementally, the Republicans have succeeded in getting more voters and more press to blame Reid's bottling of bills and filling of the amendment tree for their agita about Washington. When reporters have come to Kentucky to profile Mitch McConnell, the Republican leader has talked about liberating the Senate from Reid's politicking and protection of Democrats. He's waded so deep into that pool that he refused to tell reporters "what the agenda would be" if Republicans took the Senate.
Like so much in this cycle, the anti-Reid theme -- if it works -- was enabled by the political map. The House Republican majority is generally located in safe seats, and given lots of time to campaign at home. The percentage of Americans satisfied with their own congressmen is lower than ever, but not low enough to endanger many House members. At the same time, most of the competitive Senate races are in states that the president lost in 2012. Democrats found themselves distancing themselves from their national party while Republicans had no need to distance themselves from theirs. The result: A slow, steady hardening of the idea that the Democrats were ruining the Senate.