Rousseff Gets No-Confidence Vote From Brazil Investors
Julia Leite and Raymond Colitt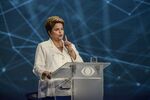 Brazilian President Dilma Rousseff said in her re-election victory speech two nights ago that she would implement "great changes" quickly. Investors are reminding her just how urgent that task is.
They drove the real down 1.9 percent and pushed stocks down as much as 6.2 percent yesterday, showing their concern that Rousseff's second four-year term will fail to bring relief to an economy marred by recession and high inflation. While the real and stocks climbed today, the currency and the Ibovespa equity benchmark are still down 11 percent over the past three months amid the closest presidential race since at least 1945.
The selloff underscores the urgency for Rousseff to restore investor confidence by signaling a change in economic policy and naming a replacement for departing Finance Minister Guido Mantega. While the 66-year-old president won voters' support with policies that helped lift millions of Brazilians out of poverty and reduced unemployment, money managers from Federated Investors Inc. to Wells Fargo Private Bank are waiting to see what changes she makes after the Oct. 26 ballot.
"Foreign investors are voting no, and Brazil needs foreign investment," Michelle Gibley, the director of international research at San Francisco-based Charles Schwab Corp., which oversees $2.4 trillion in assets, said by phone. "The real falling just exacerbates the inflation problem, which is persistently high. Reducing fiscal spending would be key, and a new finance minister would be a good start."
Investor Outreach
Rousseff vowed in her victory speech to take "urgent actions" to boost economic growth and fight inflation. While she has said that her new government will have a fresh team, including a replacement for Mantega, she said in a televised interview yesterday that it wasn't the right time to discuss names, and that Brazil's financial markets "will calm down."
The president's press office declined to comment on the process for appointing a new finance minister and on the administration's efforts to reach out to investors. Requests for comment from the Finance Ministry and Rousseff's campaign office weren't returned.
The Ibovespa climbed 2.2 percent today to 51,623.67 as of 8:12 a.m. in New York, trimming yesterday's 2.8 percent loss that brought the gauge to the lowest since April. The real rose from a nine-year low, adding 1.1 percent to 2.4946 per dollar after sinking 1.9 percent yesterday.
Weak Economy
Mantega, who oversaw lower taxes, more subsidized credit and increased public spending while at the post, told reporters yesterday that Rousseff's re-election showed that Brazilians approved of the government's economic policies. Rousseff, who has maintained record-low unemployment even as the economy posted the slowest growth under any Brazilian president in more than two decades, won 52 percent of the vote, while Senator Aecio Neves garnered 48 percent.
A new finance minister needs to put investors at ease by giving an indication of what Rousseff's administration has in store for the Brazilian economy, according to Sean Lynch, the Omaha, Nebraska-based managing director of global equity research and strategy at Wells Fargo Private Bank, which oversees $179 billion. He has a neutral weighting on Brazil, and said he's waiting for cabinet appointments to come out before reviewing his position.
"The gauge for the markets going forward will be how the administration balances the need for growth with its social goals," Lynch said by e-mail. "It could be possible that equity prices move closer to their 2013 and 2014 lows if swift and deliberate action is not taken by the government to put a floor, or at least a perception of such, under the weakening economic environment."
No Plan
Brazil is forecast to grow 1 percent next year, according to the latest central-bank survey of analysts. That is half the average pace during Rousseff's first three years in office. Gross domestic product contracted 0.6 percent in the second quarter after a revised decline of 0.2 percent in the first three months. Inflation has remained above the midpoint of the central bank's target range throughout her first term.
Rousseff doesn't have a clear idea yet of what policy and staff changes she wants to enact and a drawn-out process will discourage investors, according to political analyst Rafael Cortez of Tendencias Consultores.
"This government still doesn't believe that the lack of confidence is the cause of economic lethargy, and there are likely to be more internal discussions," Cortez said by phone yesterday.
Falling Valuations
While the Ibovespa is trading near the cheapest price-to-earnings ratio in five months, the uncertainty about economic policies and Rousseff's new cabinet will keep pressure on asset prices, according to Audrey Kaplan, the head of international equities for Federated, who has a neutral rating on Brazilian shares.
"If we could see some strong economic pillars, such as an indication of inflation anchoring, or a convincing environment for promoting growth, then you can look at the valuations" Kaplan said by phone. "Right now, with so many unknowns, it's hard to have that long term view."
Before it's here, it's on the Bloomberg Terminal.
LEARN MORE