How Detroit May Be the Decisive Factor in Michigan's Governor Race
Chris Christoff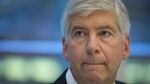 The home stretch of Michigan's governor race runs through Detroit, where voters have endured takeover and bankruptcy, and where Democrat Mark Schauer hopes to ambush the man who oversaw them, Republican incumbent Rick Snyder.
Schauer, 53, a former Battle Creek congressman, has stayed within striking distance in polls, accusing Snyder of shortchanging schools and cutting business taxes at retirees' expense. Snyder, 56, counters that he put the state and its biggest city on sounder footing.
Whichever man wins, the withered auto manufacturing capital will play a central role. For Snyder, it provides evidence of a challenge tackled. For Schauer, it's a well of support.
"If Schauer can get over 200,000 votes in Detroit, he has a chance," said Democratic state senator Virgil Smith Jr., during a neighborhood appearance where Mayor Mike Duggan introduced Schauer to voters. "The energy is there."
That sum is 38 percent of Detroit's mostly Democratic registered voters, a tall turnout order in a non-presidential election. It happened twice since 2002 for Democrat Jennifer Granholm, Michigan's first female governor. Now, Republicans command all of state government. Schauer says changing that situation is a matter of mobilization.
"Look, we're a blue state," he said at a campaign stop last week in Dearborn, a Detroit suburb. "President Obama won here two years ago by nine percentage points."
New Relevance
The linchpin of his strategy is the Motor City, whose record U.S. municipal bankruptcy may conclude next week, when Judge Steven Rhodes is to rule on a settlement plan. Snyder began the process by appointing an emergency manager in March 2013.
The city has been largely irrelevant in statewide elections, said Eric Foster, a political consultant in West Bloomfield. He said the last time Detroit mattered was 1990, when Republican challenger John Engler edged Democrat James Blanchard by 17,000 votes, aided by weak city turnout.
The are ever fewer Detroiters to vote. The city has lost 27 percent of its population since 2000, according to the latest U.S. census estimates. Foster estimates that 174,000 Detroiters will vote, out of 3.3 million he predicts will show up at precincts statewide.
Still, Schauer has five offices in Detroit and appears in the city regularly. President Obama is scheduled to campaign for him there on Nov. 1.
Symbolic City
For Snyder, Detroit holds significance for a different reason. Most Republican and independent voters approve of his handling of the city's $18 billion bankruptcy, said Rich Studley, president of the Michigan Chamber of Commerce.
"He's helped business and community leaders across the state understand that we're all in this together," Studley said in an interview.
Schauer has tried to make the election a referendum on Snyder policies that he says hurt the middle class, such as higher taxes on pensions and cuts to education funding.
A poll of 600 likely voters taken Oct. 17 to 19 by Lansing-based EPIC/MRA showed Snyder leading Schauer, 47 percent to 39 percent. Another by Raleigh, North Carolina-based Public Policy Polling last week showed the race a dead heat.
"Democrats have historically not voted in mid-term elections," Mayor Duggan said during last week's hour-long campaign with Schauer in a city neighborhood. "We're just trying to get every Detroiter out."
Crowded Class
One that Schauer met on the campaign stop, Talene Weathers, 38, said she likes Duggan and will vote for Schauer. She prods neighbors and relatives to vote, too.
Weathers said her daughter's kindergarten class had 40 children and one teacher, proof that Snyder doesn't adequately fund public schools.
"Education is our No. 1 issue," she said.
Schauer has been involved in government and politics for decades as a state and federal lawmaker and community activist. He's a mild-mannered, experienced campaigner who defeated incumbents for both Michigan state and U.S. House.
Snyder, an accountant and lawyer, is a self-described nerd who avoids partisan rhetoric and pushes "relentless, positive action," at every opportunity. He spent almost $6 million of his own on his 2010 campaign.
Money Gushes
Snyder's decisions to sign a right-to-work law and to tax pensions, and his refusal to take a stand on same-sex marriage dented his image as a moderate among Democrats and independents. He ruffled Republicans by expanding Medicaid coverage and pushing unsuccessfully to create a state exchange to enroll residents in the new federal health-insurance program. He supports more open immigration for entrepreneurs and those with advanced degrees.
Snyder said he's made taxes fairer for businesses and working families. The old system "put too much of a burden on low-income and middle-income earners," Snyder said in an Oct. 19 televised debate with Schauer, the only joint appearance by the candidates.
Outside money has flowed into the race, far outstripping what the candidates themselves have spent.
Schauer benefited from $7.6 million for television ads from the Democratic Governors Association through September, said Rich Robinson, director of the Lansing-based Michigan Campaign Finance Network, which tracks spending. Schauer's campaign spent about $800,000.
The Republican Governors Association spent $6.3 million on ads promoting Snyder, Robinson said. Snyder's campaign spent $3.6 million.
Quiet Accomplishment
Among Snyder's supporters is Michael Bloomberg, founder and majority owner of Bloomberg News parent Bloomberg LP. His political action committee, Independence USA, has spent $1.2 million on pro-Snyder television ads, according to Washington's Center for Public Integrity.
Studley said some of Snyder's accomplishments don't lend themselves to snappy slogans and sound bites, such as balanced budgets and reduced debt, especially for public pensions.
"It's stunning to me that you have teachers, who have been guaranteed their pensions will be there for them, going on TV to slam the governor," Studley said.