Petrobras Is Losing Whether Oil Rises or Falls
Peter Millard and Sabrina Valle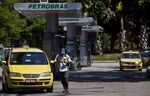 Investors in Petroleo Brasileiro SA are losing no matter where oil prices go.
The company's market value plunged $160 billion during President Dilma Rousseff's first term, which analysts attribute largely to her policy of forcing the state-run producer to sell gasoline below cost to shield motorists from crude prices that more than doubled in five years. Now that Finance Minister Guido Mantega is signaling Petrobras may be able to raise pump prices, crude's tumble is set to squeeze margins at its exploration and production division, say Guide Investimentos, Banco Bradesco SA and Moody's Investors Service.
The 22 percent crude-price drop since June 20 coincides with rising costs to extract oil from so-called pre-salt fields deep in the Atlantic Ocean, according to Felipe Rocha, an analyst at Guide, a brokerage with offices in Sao Paulo, Rio de Janeiro and Curitiba. Petrobras tumbled 12 percent yesterday, the biggest decline among 834 stocks on the MSCI Emerging Markets Index, after Rousseff was re-elected on Oct. 26.
"It's a bizarre situation," Rocha said in a telephone interview from Curitiba, Brazil. "It all stems from interference, from not having a methodology for fuel prices."
Petrobras moved in line with crude prices in the decade leading up to Rousseff's first term. Then, starting in 2011, the stock lost value even as crude gained because the company started selling imported fuel at a loss, preventing it from profiting as oil topped $100 a barrel. Brent prices closed 0.8 percent lower yesterday at $85.40 a barrel.
Shares rebounded 5.2 percent to 15.03 reais in Sao Paulo. Yesterday's close was 46 percent below the price paid in a record $70 billion offering four years ago.
'No Urgency'
A post-election fuel price increase is less likely if crude remains at current levels or lower because the company isn't selling imported gasoline at a loss anymore, Auro Rozenbaum, equity analyst at Bradesco, said in a phone interview from Sao Paulo. Petrobras's refining division has booked more than $44 billion in operating losses since 2011.
Petrobras, the Finance Ministry and Rousseff's office didn't respond to requests for comment on the fuel-price policy and the impact crude prices are having on the company.
"Right now there is no urgency for a price increase," Rozenbaum said. "The price gap situation is calmer than it has been for a long time."
Today, Petrobras is selling imported gasoline at a profit and diesel at a slight discount, almost eliminating losses from fuel imports, Rozenbaum said. Still, the company is making less from other refined products it sells in Brazil, including jet fuel and kerosene, and from crude oil sold abroad, he said. Declining oil prices will have a negative impact on earnings next year, Rozenbaum said.
Pre-salt Cost
Petrobras's average extraction, or lifting costs, were $32.97 a barrel in the first half, compared with about $45 for the pre-salt areas, where its biggest discoveries are.
Mantega, who is also Petrobras's chairman, said Oct. 22 that the price gap had been eliminated. The government controls Petrobras's board with 50.26 percent of voting shares, according to data compiled by Bloomberg.
"Now it benefits Petrobras -- the price of gasoline is higher, so Petrobras is winning," Mantega said in an interview with Record News. "But that doesn't mean there won't be an increase. That is a decision for the company."
Petrobras's most expensive projects in the pre-salt region of the south Atlantic are still profitable with oil at current prices, said T.J. Conway, a research and advisory manager at New York-based Energy Intelligence Group.
"Petrobras is not at near-term risk of having to stop major projects because of the recent drop in prices," Conway said in a telephone interview from Washington D.C. "If you are looking at the global competitive landscape, those companies that are heavily invested in high-cost projects, like certain U.S. unconventional plays, are more vulnerable."
Break-Even
Petrobras's break-even price for projects in the pre-salt region is about $45 a barrel, according to information on its website. The company began commercial production in 2010 and now pumps more than 500,000 barrels a day from the deposits. Output has grown for nine straight months and should continue to expand as it adds more offshore units, Conway said.
A slump in the local currency also offsets gains from the end of fuel subsidies because the company sells the imported fuel in reais, UBS AG said in a note to clients yesterday. The weaker exchange rate has also increased the cost of servicing Petrobras's $139 billion debt load, the largest among publicly-traded oil companies and more than double what it was at the start of 2011.
Real Tumble
A lower oil price and local currency also increase Petrobras's financing needs. The $220.6 billion five-year business plan is calculated at $105 Brent through 2016. It uses an average long-term exchange rate of 1.92 to the dollar starting in 2015, according to the business plan.
The real posted the world's biggest loss yesterday, sinking 1.9 percent to a nine-year low of 2.52 per dollar.
A weaker real "is a very high risk" for Petrobras because about 70 percent of its debt is in dollars, Nymia Almeida, an analyst at Moody's, said in a telephone interview from Mexico City on Oct. 21.
"With her re-election, Petrobras is in the nexus of all the pain," Robbert van Batenburg, director of market strategy at broker-dealer Newedge USA LLC, said in a phone interview from New York. "It's a really political animal."
Before it's here, it's on the Bloomberg Terminal.
LEARN MORE