Nomura Profit Gain Beats Estimates on Broking, Trading
Takahiko Hyuga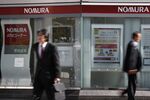 Nomura Holdings Inc.'s second-quarter earnings rose more than analysts estimated as Japan's biggest securities firm reaped higher brokerage commissions and trading revenue and returned to profit abroad.
Net income climbed 39 percent from a year earlier to 52.9 billion yen ($490 million) for the three months ended Sept. 30, Nomura said in a statement in Tokyo today. That beat the 43 billion-yen average estimate of eight analysts surveyed.
Retail brokerage operations have led a resurgence in profit at Nomura, prompting Moody's Investors Service to raise its credit rating this month. Investment-banking income, which fell last quarter, may pick up after the firm was chosen to coordinate share sales including state-owned Japan Post Holdings Co.'s initial public offering.
"We expect Nomura to boost income from wholesale businesses," said Koichi Niwa, an analyst at SMBC Nikko Securities Inc. in Tokyo. "The brokerage will probably expand its equity capital markets and mergers and acquisition advisory operations considerably, depending on market conditions."
Revenue rose 5.2 percent last quarter from a year earlier to 450.8 billion yen, Tokyo-based Nomura said. Brokerage commissions climbed 6.2 percent to 112.1 billion yen.
Trading profit advanced 17 percent to 129 billion yen. Fees from investment banking, including M&A advice and equity underwriting, declined 10.4 percent to 20.6 billion yen.
Stock Market
Brokerage commissions got a boost last quarter as Japanese stocks rebounded amid a weaker yen. The Nikkei 225 Stock Average rose 6.7 percent in the three months ended Sept. 30.
The stock gauge slid 5.9 percent in 2014 from a six-year high as investors lost enthusiasm for Prime Minister Shinzo Abe's economic stimulus policies. Shares of Nomura, which gained 0.5 percent to 609.6 yen today before the results, slumped 25 percent this year.
Moody's raised the credit rating by two levels, the first increase since 2005, to Baa1 in a move that could boost Nomura's fixed-income and derivatives business. Daiwa Securities Group Inc., the company's biggest domestic rival, was also upgraded this month.
"Nomura's retail segment will remain the main contributor to earnings, due in part to changes in government policy that encourage individual purchases of investment trusts, especially those that invest in equities," Moody's said on Oct. 9.
Asset Management
Asset management fees gained 19 percent last quarter to 48.4 billion yen, Nomura said today. The brokerage's assets under management for individuals climbed to a record 99.3 trillion yen as of Sept. 30, it said.
The company made a 3.7 billion-yen pretax profit from operations abroad last quarter, compared with a loss of 18.7 billion yen a year earlier, today's report showed. Europe and Asia drove the gains.
Led by Chief Executive Officer Koji Nagai, Nomura is rebuilding its overseas operations after cutbacks following its purchase of parts of Lehman Brothers Holdings Inc. in 2008. The firm hired 15 senior bankers in the Americas to strengthen investment banking in the region, it said this month.
At home, the Ministry of Finance this month selected Nomura, Goldman Sachs Group Inc., Mitsubishi UFJ Morgan Stanley Securities Co. and JPMorgan Chase & Co. as the global coordinators for the Japan Post sale. The ministry has estimated it could raise about 4 trillion yen from as many as three offerings by the postal, banking and insurance giant by 2023.
Line Corp., the operator of Japan's most-popular mobile messaging service, is working with Nomura and Morgan Stanley to prepare for an IPO that could value the company at more than 1 trillion yen. Nomura is also helping mobile game developer Gumi Inc. with its plans for a debut share sale as soon as December.
Nomura is the top manager of Japanese equity offerings this year, underwriting transactions valued at 1.1 trillion yen, compared with 1.3 trillion yen for all of 2013, data compiled by Bloomberg show. The firm is fourth among financial advisers for mergers and acquisitions in Japan, the same spot it held last year, the data show.
Before it's here, it's on the Bloomberg Terminal.
LEARN MORE