Iraqi Kurds Say Peshmerga to Join Defense of Kobani Soon
Selcan Hacaoglu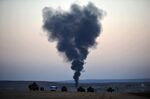 Kurdish fighters from northern Iraq will join the fight against Islamic State in Kobani "as soon as possible" after snags delaying their deployment were resolved, an Iraqi Kurdish official said today.
Some of the forces, known as Peshmerga, will be flown from Erbil to the Turkish city of Sanliurfa near the border with Syria, Helgurt Hikmet, a spokesman for the Kurdistan Regional Government's Peshmerga Ministry, told Turkey's state-run Anadolu Agency.
Trucks carrying weapons for the fighters began their journey toward Kobani today, the Erbil-based Rudaw news service reported. The cargos include Katyusha rocket-launchers, mortars and anti-tank missiles, Anadolu said.
Turkish President Recep Tayyip Erdogan last week proposed sending Iraqi Peshmerga to Kobani, a Kurdish stronghold on the Syria-Turkey border besieged for weeks by Islamic State militants, as he criticized U.S. airdrops of weapons to the town's defenders. Erdogan opposes arming the Syrian fighters directly because they are allied with the Kurdistan Workers' Party which has fought for autonomy in Turkey since 1984.
Crowds gathered near Turkey's Habur border crossing with Iraq to greet the peshmerga, and clashes broke out with police, Anadolu said. Protests broke out across largely Kurdish southeast Turkey earlier this month over the government's reluctance to help Kobani's defenders.
Rudaw reported that about 150 Peshmerga will leave for Turkey early tomorrow, citing an unidentified person close to the Kurdish administration. Officials held two days of negotiations with Turkey over their transit, Rudaw said.
'No Problem'
Turkey's Foreign Minister Mevlut Cavusoglu told A Haber television today that a disagreement between the Syrian and Iraqi Kurds had delayed the deployment. "There has been no problem from our side," Cavusoglu said. "They can cross any moment."
Fighting in Kobani has raged even after stepped-up airstrikes on nearby Islamic State positions by the U.S.-led coalition seeking to counter a militant offensive that has seized control of large swaths of Syria and Iraq since June.
Four airstrikes near Kobani destroyed five Islamic State vehicles and a building the group had occupied, the U.S. Central Command said in a statement on its website yesterday.
The militants intensified shelling of eastern and central parts of the town as well as areas near the Mursitpinar border crossing to Turkey, Anadolu said.
In its latest propaganda video, Islamic State yesterday released a recording of British hostage John Cantlie that it said was filmed in Kobani. In the film, Cantlie said the fighting there was "nearly over."
Before it's here, it's on the Bloomberg Terminal.
LEARN MORE