Harper, Kerry to Mark Death of Soldier Killed in Ottawa
Andrew Mayeda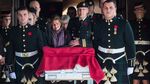 Prime Minister Stephen Harper and U.S. Secretary of State John Kerry honored the soldier shot dead as he stood guard last week at a Canadian war memorial.
Cpl. Nathan Cirillo, a 24-year-old reservist with a young son, was remembered today in a public service in his hometown of Hamilton, Ontario. Harper and other political leaders attended the regimental funeral at Christ's Church Cathedral as soldiers carried in Cirillo's flag-draped coffin.
"Corporal Cirillo knew what all those men and women who died before him also knew," Harper said in a speech at the funeral. "The only values really worth living for are those worth dying for." Cirillo was a member of the Argyll and Sutherland Highlanders of Canada.
Kerry said the U.S. and Canada are discussing ways to step up their cooperation in the fight against terrorism. The U.S. wants to cut off financing to Islamic State militants and impede the group's propaganda efforts, he said.
"Anybody who walks up in a premeditated way with a rifle and attacks somebody in uniform and then purposefully goes to a parliament is committing, by common-sense standards, a terrorist act," he told reporters in Ottawa after meeting with Canadian Foreign Minister John Baird.
Kerry earlier laid a wreath at the war memorial in Ottawa that Cirillo was guarding when he was killed.
Jihadist Views
Michael Zehaf-Bibeau, 32, shot Cirillo dead with a Winchester rifle on Oct. 22 before storming the nation's legislature a few hundred meters away. Authorities killed the attacker steps away from rooms where lawmakers including Harper were meeting.
Police said yesterday Zehaf-Bibeau, who had a history of drug use, was driven by jihadist views and opposition to Canada's foreign policy. Royal Canadian Mounted Police Commissioner Bob Paulson told reporters a video that Zehaf-Bibeau prepared before the attack showed that he was "deliberate" and "lucid."
Harper's government yesterday introduced legislation that would give the Canadian Security Intelligence Service more power to investigate terrorism suspects abroad.
Before it's here, it's on the Bloomberg Terminal.
LEARN MORE