For Campaigns, Air Time is Going, Going, Gone
With TV ad time all but gone during the next week, political parties are looking beyond Election Day.
By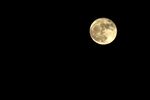 If you're looking for a TV ad buy in the final days of the competitive races for U.S. Senate, the choices are pretty limited. How does 2 a.m. in Alaska sound? 
That's about the only air time left in any of the states with neck-and-neck Senate races, according to sources who monitor these things. But not to worry. There's always after Election Day.
Both parties are reserving post-Nov. 4 air time in Louisiana—about $10 million by both sides so far—anticipating that no candidate will get more than 50 percent of the vote, which would trigger a Dec. 6 runoff.
There's still plenty of post-election TV time still available in Georgia, where a similarly close race may not be decided until the state's Jan. 6 runoff. Neither party has reserved post-election ad time in the state, where Atlanta is one of the nation's most expensive media markets.
Political TV ad spending this year is poised to exceed $1 billion, 40 percent of which has been in Senate races, an all-time high, according to the Wesleyan Media Project. (Our colleague Greg Giroux points out it would take more than 14 months to watch all the ads that have aired in congressional races.)
In individual races from Sept. 26 to Oct. 9, Democrats were outspending Republicans in Louisiana, Georgia, South Dakota, and Oregon, while the biggest Republican ad advantages were in Kentucky and West Virginia, according to the Wesleyan Media Project. In South Dakota, there were approximately four times as many ads favoring Democrat Rick Weiland as ads favoring Republican Mike Rounds.