For Campaigns, Air Time is Going, Going, Gone
With TV ad time all but gone during the next week, political parties are looking beyond Election Day.
By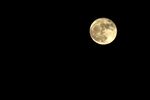 If you're looking for a TV ad buy in the final days of the competitive races for U.S. Senate, the choices are pretty limited. How does 2 a.m. in Alaska sound?