Ebola Treatment Successes in U.S. Haven't Eased Fear of Missteps
By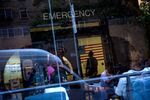 The second nurse who contracted Ebola while caring for a man at a Dallas hospital has recovered from the virus and been released. Amber Vinson left Emory University Hospital on Tuesday, four days after her colleague Nina Pham was released from the NIH Clinical Center.
That means the risk of any further transmission from Thomas Eric Duncan, the first person to be diagnosed with Ebola in the U.S., is very low: Wednesday will mark 21 days from his death, the longest known incubation period for those exposed to the virus to show symptoms. While it's possible that other people were exposed to Pham or Vinson after they developed symptoms, both Emory and the NIH Clinical Center have successfully treated Ebola patients without exposing medical staff.
Officials at the Centers for Disease Control were caught off guard when the Dallas nurses developed symptoms. Both treated Duncan in the chaotic first days after he was admitted, as the CDC's guidelines for protective gear were still evolving. Duncan's caregivers weren't initially on the agency's list of people to be monitored for potential exposure.
The scrambling in those first days after Pham was diagnosed informs the situation now. When another patient, Craig Spencer, was diagnosed with Ebola in New York last week after returning from Guinea, governors in the area—who happen to be up for reelection in a week—didn't want to be seen as leaving things up to the CDC's guidelines. Hence the mandatory quarantine orders for any travelers returning from Guinea, Liberia, or Sierra Leone who treated Ebola patients, regardless of whether they exhibit symptoms. (People with Ebola are not contagious until they get sick.)
It's possible Governors Chris Christie and Andrew Cuomo would have taken the same approach even if no one in Dallas had caught the virus from Duncan. The legacy of the diminished confidence in the CDC, however, is a political sideshow that may do more to incite fear than allay it. "In a region like this, you go out one, two, or three times, you ride the subway, you ride a bus, you could affect hundreds and hundreds of people," Cuomo said, ignoring the fact that Ebola isn't spread through the air. It's above all a distraction from stemming the epidemic in West Africa, where few people get the kind of care that helped the sick nurses leave the hospital alive.
Before it's here, it's on the Bloomberg Terminal.
LEARN MORE