Dunkin' Donuts to Offer Croissant Hybrid Starting Nov. 3
Dave McCombs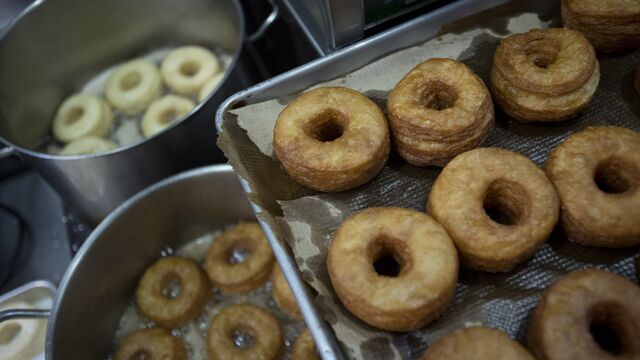 The Dunkin' Donuts chain, capitalizing on the cult-like demand for Dominique Ansel Bakery's Cronut in New York, is introducing its own doughnut-croissant hybrid next week.
The product will sell at selected shops for $2.49 starting on Nov. 3, said Justin Drake, a spokesman for Dunkin' Brands Group Inc. The glazed, flaky ring will be made in limited quantities and served nationwide for a finite time, he said.
Dunkin' Donuts is rolling out the croissant doughnut after a test run in New Jersey, part of a push into new foods and beverages. The Canton, Massachusetts-based company is developing new burritos, smoothies and other items in a bid to draw more customers and compete with Starbucks Corp.
While Dunkin' Donuts isn't comparing its new product to Dominique Ansel's concoction, the company may benefit from the Cronut fever that has gripped New York over the past year. Ansel, a pastry chef who began selling the Cronut in May 2013, has drawn long lines to his SoHo bakery and had to ration orders to cope with demand.
At $2.49, the Dunkin' croissant doughnut is only about half the price of the $5 Cronut. Still, it costs a good bit more than the chain's regular doughnuts, which typically go for about a buck.
Ansel successfully registered Cronut as a trademark for doughnut-croissant hybrids in January and has threatened legal action against perceived copycats. That includes a California doughnut shop that ultimately changed the name of its pastry from "Dkronut" to "DK Double Decker O-Nut."
The Crumbnut
Crumbs Bake Shop, the cupcake chain that went bankrupt and is now reopening stores under new ownership, also tried to tap into Cronut excitement. It introduced a pastry called the Crumbnut last year after the novelty of its cupcakes waned.
Dunkin' Brands, which also owns the Baskin-Robbins ice-cream stores, has been struggling to maintain growth amid heavy competition for breakfast customers. Dunkin' Donuts' same-store sales rose just 2 percent last quarter, missing analysts' estimates for a 2.3 percent increase.
In addition to the new food products, it's counting on dark roast coffee to help spur sales. The company has about 7,800 Dunkin' Donuts stores across the U.S.
Shares of Dunkin' Brands have dropped 3.8 percent this year, compared with a 7.4 percent gain for the Standard & Poor's 500 Index. They climbed 1.9 percent to $46.38 today.
Before it's here, it's on the Bloomberg Terminal.
LEARN MORE