Christie: We're Not Moving an Inch
The New Jersey governor defends his position on Ebola quarantines.
By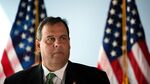 New Jersey Governor Chris Christie stuck to his guns on mandatory Ebola quarantines in an appearance on the "Today" show on Tuesday. 
"Our policy hasn't changed and our policy will not change," Christie said. 
His comments follow the Monday release of nurse Kaci Hickox, who was held under the new mandatory quarantine policy in a tent at a New Jersey hospital after arriving at Newark Liberty Airport on Friday from Sierra Leone. Hickox had registered a fever, but said it was because she was flushed and upset. 
Hickox was the first person to be affected by the quarantine instated by Christie and New York Governor Andrew Cuomo. Christie pointed out that other states, including Maryland, Virginia, Florida and Minnesota, plan to adopt the procedure. Illinois is enacting a policy as well, though it requires fewer people to be quarantined. 
Christie noted that his policy has bipartisan support among those governors who have enacted it. 
"The fact is you've got more Democratic governors doing this than Republican governors," he said. 
Christie and Cuomo's handling of the situation has come under particular scrutiny, and "Daily Show" host Jon Stewart poked fun at Christie's approach on Monday's episode.
"Why does Christie have to be such a d--- about everything?" Stewart said. "He can't just quarantine someone. He has to be, like, 'Hey, you're a doctor without borders? Not anymore.'"
The policy move came after New York doctor Craig Spencer tested positive for Ebola, having spent a day out and about in New York City. The Centers For Disease Control and Prevention have since explicitly told health-care workers returning from the affected region at high risk of infection to stay home for 21 days, the incubation period for the virus. 
Christie said, because of the fever, Hickox was viewed as being symptomatic. Had she not been, she would have been told to self-quarantine at home. He added that the new CDC policy is very similar to the one he originally put into place, it just doesn't use the word "quarantine."
"They've been wrong before and now they're incrementally taking steps toward the policy that we've put into place in New Jersey," he said.