China Merging Trainmakers Adds to Pressure on Siemens
Alex Webb and Clement Tan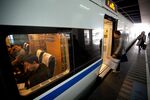 China's plan to merge its two biggest trainmakers may allow the country to win more overseas orders with improved and cheaper offerings, increasing pressure on rivals including Siemens AG, Alstom SA and Bombardier Inc.
China's State Council has ordered the merger of China Northern Locomotive & Rolling Stock Industry Group Corp. and southern counterpart CSR Group into one company, government officials involved in the transaction said yesterday. The pair are already the world's No. 1 and No. 2 in rail equipment, each getting more than 90 percent of their sales from China.
"This would create a very strong global competitor," said Ingo-Martin Schachel, a Frankfurt-based Commerzbank AG analyst who rates Siemens shares hold. "It would heighten the need for consolidation among the western manufacturers."
The increased competition from China comes at a time when manufacturers such as Germany's Siemens and France's Alstom are facing constrained public spending in their home markets. China is competing aggressively for overseas rail projects, targeting emerging markets such as Africa, Eastern Europe, Latin America and Southeast Asia. Premier Li Keqiang has touted the country's rail equipment, engineering and construction companies during overseas trips, signing several deals along the way.
Last week, Boston awarded CNR a $567 million contract to supply trains for the city's subway system, the first deal of its kind for a Chinese company in the U.S. CNR offered the cheapest price among five bidders and a little more than half of the bid by Montreal-based Bombardier.
European Woes
Europe's biggest engineering company Siemens this year unsuccessfully tried to combine its ailing train operations with Alstom's transport business as part of an asset swap to buy the French company's energy assets. Alstom instead sold energy assets to General Electric Co. and will receive the U.S. company's rail-signaling unit in exchange.
Siemens's transportation business, with about 6 billion euros ($7.6 billion) in annual revenue, has burdened profit at the Munich-based company since 2011 as delays to orders from German national rail operator Deutsche Bahn AG precipitated hundreds of millions of euros in charges. In contrast, Alstom's transport arm, which makes products ranging from signalling equipment and trams to regional railcars and long-distance trains, has been reporting rising sales and profitability.
High-Speed Competition
The combined Chinese entity would have annual sales of $33.6 billion and a net income of $1.44 billion and also challenge the high-speed products of both Alstom and Siemens, which operate under the respective TGV and ICE brands in France and Germany.
China is expanding the world's largest high-speed rail network to help sustain a three-decade economic boom. In December, CSR and China CNR won bids for 258 bullet trains worth as much as 44.3 billion yuan ($7.2 billion) to serve the growing network. CSR builds high-speed trains on its own and in a venture with Bombardier.
Representatives for Siemens and Bombardier declined to comment on the potential market impact of a merged Chinese trainmaker. Alstom couldn't immediately be reached for comment.
Japanese trainmakers such as Hitachi Ltd. are also seeking orders abroad as demand for new railroads shrinks at home, where the population is falling. Hitachi, described on its website as "the key player" in the Shinkansen bullet train, said in December it was working on new rail orders that could lead it to consider a plant in Germany or expansion of a facility that it's building in Newton Aycliffe, England, following successful contract bids in the U.K.
Merger Details
Details of the Chinese merger are yet to be set, and China International Capital Corp. is drafting a plan for combining the two companies' listed arms, said the officials, who asked not to be identified as they are not authorized to speak to the media.
China CNR Corp. and CSR Corp., the two listed entities of the trainmakers, have a combined market value of $26 billion based on their last trading prices in Hong Kong. The two had 172,647 workers at the end of last year, the data show. The two companies said Oct. 27 they will make a "major" announcement within five working days.
While European spending on infrastructure projects has been sluggish, other markets are set to boost investments, Nicholas Heymann, a New York-based William Blair & Co. analyst, said in an Oct. 21 telephone interview.
"Emerging markets have surged," he said. "People are gassed up about South America, that's tangible and real." India plans to spend $93 billion over 15 years to upgrade and modernize infrastructure, he said.
The increased competition from China may also force the likes of Siemens to develop new offerings and invest more in research and development.
Heymann said he met with Siemens's representatives in September and was disappointed by the products the German company showed him.
"I said to them 'It's really nice of you to spend two hours with me, but where the hell is the beef in the burger?'"
Before it's here, it's on the Bloomberg Terminal.
LEARN MORE