Attack of the Robot Bloodhounds
Mitch McConnell's iconic hunting dogs reappear in a Kentucky Senate ad, in CGI form.
By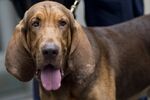 It's a classic of modern political TV advertising: The "Bloodhounds" spot that Roger Ailes designed for Mitch McConnell's 1984 Senate bid. McConnell was challenging Democratic Senator Dee Huddleston, whose attendance record was not at all spotty—94 percent, the year of the election. Yet Ailes and consultant Larry McCarthy came up with the idea of dogs on Huddleston's trail in Washington, trying and failing to find a senator who was "skipping votes but making an extra $50,000 giving speeches." It had a homespun feel; as Jane Mayer reported, McCarthy personally took on the role of a lounging man who couldn't tell the bloodhounds where the senator was.
Thirty years on, McConnell is closing with an amiable spot about the people tasked to create his image. He's green screened into the Jeanne Claude Van Damme truck ad, and he decides that a spot starring talking babies has "been done." Finally, he's talked (by Steven Spielberg impersonator and GOP political ad director Larry McCarthy) into doing a commercial with bloodhounds.

If the image seems strange, it's because, unlike in the Rubix Cube era, there are no real bloodhounds. The lovable pooches were acquired, at four figure sums, from www.GreenScreenAnimals.com. There is a story here about the evolving nature of consultant politics, but it might be a little too obvious.
CORRECTION: Larry McCarthy emails to correct the record: There were four real bloodhounds on set, two of which are cuddling up to McConnell. Only the other dogs were added in by the power of binary code. I didn't mean to leave the impression that all the animals were added in; the more-cowbell 2014 approach to a 1984 DIY classic just struck me as amusing.