Attack of the Robot Bloodhounds
Mitch McConnell's iconic hunting dogs reappear in a Kentucky Senate ad, in CGI form.
By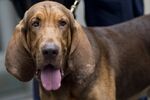 It's a classic of modern political TV advertising: The "Bloodhounds" spot that Roger Ailes designed for Mitch McConnell's 1984 Senate bid. McConnell was challenging Democratic Senator Dee Huddleston, whose attendance record was not at all spotty—94 percent, the year of the election. Yet Ailes and consultant Larry McCarthy came up with the idea of dogs on Huddleston's trail in Washington, trying and failing to find a senator who was "skipping votes but making an extra $50,000 giving speeches." It had a homespun feel; as Jane Mayer reported, McCarthy personally took on the role of a lounging man who couldn't tell the bloodhounds where the senator was.