politics
You Can't Oppose Ebola Strongly Enough If You're on the Ballot
Voters' fears of contracting Ebola are serving to remind them of a broad issue in the midterms–frustration with the Obama administration and Washington dysfunction.
By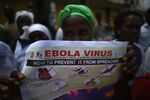 Who'd have guessed a deadly, horrific and–it bears saying–mostly contained virus would make its way to the U.S. and become a possible tipping point in the November 4 midterm elections?
Yet here is the lay of the land a week out from Election Day:  Democratic incumbents in tight contests in North Carolina, Arkansas and Illinois have been buckling under intense pressure to embrace more aggressive approaches to the disease than the White House.
And New Jersey Governor Chris Christie, who's heading the national effort to elect Republican governors, defended his and other states' quarantine approaches opposed by the Obama administration. "I'm telling you guys this is going to become a national policy eventually," Christie said Monday. "Eventually the CDC will come around. And remember they were late to the game in Texas and we had people infected because of it." 
In Illinois–which has yet to report a case of Ebola–Governor Pat Quinn signed an order mandating 21-day quarantines of medical workers and others who have been in contact with Ebola patients from three African countries.  
In North Carolina, Senator Kay Hagan was against a temporary travel ban from affected countries before she was for it. Meantime, her Republican rival, Thom Tillis, an early and constant critic of President Barack Obama's response to Ebola, has been closing Hagan's lead.
Ebola politics extends all the way to Minnesota, where Democratic Senator Al Franken, under fire from challenger Mike McFadden, said in a Sunday debate that he isn't opposed to a travel ban to fight the virus–even though he doesn't think it will really work.
"When you talk to voters–just the focus groups I've been in the last couple weeks–they're definitely freaked out about this," said Amy Walter, national editor of the Cook Political Report, which tracks campaigns. "Voters are definitely scared and politicians know it. So there has to be something politicians do to help people feel less anxious about it."
The problem for Democrats is that playing defense on Ebola takes them off offense on local issues, such as Hagan's criticism of her opponent on education policy in North Carolina. Walter said that next week's balloting won't be "the Ebola election" but that the disease plays into a larger theme.
"It's Ebola plus ISIS plus the fact that just every day something bad seems to be happening," she said. "Democrats really want to localize this campaign; they don't win when it's about Washington and Barack Obama."
Over the weekend, it was a Republican who had a controversial response.  Christie defied the president's self-quarantine guidance for medical workers by ordering a nurse who treated Ebola patients in Africa to be placed in an isolation tent over the weekend. State officials began relenting on those restrictions after the nurse, who has not tested positively for the disease or shown symptoms, threatened legal action. By then, though, the New Jersey governor had scored points with a base that's been mad at him for two years for saying nice things about the White House's response to Hurricane Sandy, right before the 2012 election, and possibly helping Obama beat Republican Mitt Romney.
Christie on Monday denied he reversed policy, saying after it became clear she didn't have Ebola "there's no reason to keep her."
"She's a good person," he said. "But she needs to understand that the obligation of elected officials is to protect the public health of all the people and if that inconvenienced her for a period of time, that's what we need to do to protect the public. That's what we will continue to do." 
Which serves as a reminder that virtually any disaster, epidemic or incident with casualties can be fair game in American politics. After all,  Obama ran not just against President George W. Bush's Iraq war legacy but against the racially tinged failures of his administration's response to Hurricane Katrina.    
Before it's here, it's on the Bloomberg Terminal.
LEARN MORE