What We Still Need to Know About Obamacare
By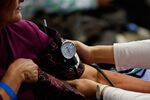 Thanks to the Affordable Care Act, some 10 million adults under age 65 now have health insurance. Even so, only 36 percent of Americans view Obamacare favorably. My colleague John Tozzi suggests this was a foregone conclusion: Many people never trusted health-care reform, or didn't need it, so they were inclined to dislike it from the beginning. It also might be that the number of people who gained coverage is only part of the story. We still know almost nothing about the millions of people who actually use Obamacare.
According to a McKinsey survey (pdf), three-quarters of the people who bought insurance on the Obamacare exchanges were previously covered. Whether these folks benefited from the ACA—and perhaps whether they think favorably of it—depends on what their previous insurance covered, what it cost, and why it was discontinued. There are few data on these questions, but we do know ACA insurance is quite limited. According to a survey by the Physicians Foundation (pdf), only one-third of doctors accept insurance bought on health-care exchanges. That leaves people with narrow networks and treatment options.
I have an Obamacare plan, and only one of my doctors accepts it. Of all the plans on the exchange, she took only two—which is two more than every other doctor I called. One said, "I take all major insurance, except Obamacare."
Because I'm healthy, I consider my ACA plan as catastrophic care insurance—for routine care, I pay my doctors out of pocket. If something horrible befalls me, I'll use my ACA plan, but not until then. So far, this is working out. Because I self-pay, I am more engaged with my care and its costs, my doctors offer me better rates, and they're very responsive. I pay slightly more and get better care than I did with my previous plan.
Not everyone can do this. At this stage I am comfortable taking on the risk that I won't need more care this year, and if I do need more, I'll be willing to change all my doctors. People with chronic conditions or preexisting relationships with doctors probably wouldn't be as satisfied. Obamacare is better than nothing, but as an alternative to most employer-provided health insurance, it falls short.
Obamacare is still in its infancy. The quality of plans on the exchanges may improve. More doctors may start taking ACA insurance. In addition to the 33 percent of doctors who currently take Obamacare, another 10 percent of doctors surveyed say they plan to take it someday. On the other hand, the plans may get worse, and American health care will evolve into an explicit two-tier system. The European experience suggests it may not be possible to deliver both universal care and a pick of providers available when you want them.
We don't know much about millions of people directly affected by Obamacare, the ones who bought ACA insurance. Until we do, it's too soon to expect everyone to be happy.
Before it's here, it's on the Bloomberg Terminal.
LEARN MORE