Repo Volatility Increases as Dealers Step Back: Chart of the Day
Liz Capo McCormick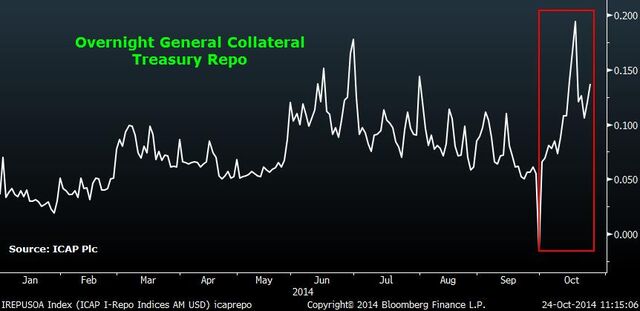 Volatile swings in the rate to borrow and lend Treasuries through repurchase agreements are turning into the norm as regulatory changes prompt banks to participate less in the $1.6 trillion-a-day funding market.
The CHART OF THE DAY shows a surge of fluctuation over the past month in the average rate of overnight Treasury general-collateral repos traded daily with ICAP Plc, the world's largest inter-dealer broker. The pace of swings for the week ended Oct. 17 was the highest this year, according to Citigroup Inc.
"This has less to do with volatile yield movements further out the curve and more to do with structural changes in the repo market," Andrew Hollenhorst, fixed-income strategist at Citigroup in New York, wrote in a note to clients on Oct. 24. "Dealers are less willing to expand balance sheets, leading relatively small changes in market conditions to have large effects on repo rates."
ICAP's daily trading volume in U.S. Treasuries surged Oct. 15 to a record $946 billion as investors backed off on bets on when the Federal Reserve will start raising interest rates. U.S. 10-year note yields fell below 2 percent for the first time since June 2013 as futures trading showed the chance of a rate increase in July 2015 sank to 20 percent, from 58 percent a month earlier. Yields traded at 2.27 percent on Oct. 24.
A repo agreement is a loan in which one party offers a security as collateral to borrow cash. Securities dealers use them to finance their holdings and increase leverage. Treasuries that can be borrowed at interest rates close to the Fed's target rate are called general collateral.
The biggest U.S banks are curtailing repo activity as they work to meet new regulations on capital requirements and liquidity levels, which global policy makers put in place to prevent another financial crisis. Transactions in the tri-party repo market fell 17 percent to an average $1.62 trillion in outstanding securities each day as of September, from $1.96 trillion in December 2012, data compiled by the Fed show.
Before it's here, it's on the Bloomberg Terminal.
LEARN MORE