Politician Who Has Been Dead Since 2009 Just Weighed In on New Hampshire Senate Race
Granite State Republicans successfully place an old op-ed from the 2008 Senate race, written by a dead man.
By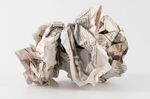 The op-ed begins on a discordant note. "As is usual with poll-driven politicians," writes Marshall Cobleigh in New Hampshire's Foster's Daily Democrat, "Jeanne Shaheen is running television commercials and writing op-ed pieces addressing the dominant problem facing America — skyrocketing gasoline prices — but providing no real solutions."