Politician Who Has Been Dead Since 2009 Just Weighed In on New Hampshire Senate Race
Granite State Republicans successfully place an old op-ed from the 2008 Senate race, written by a dead man.
By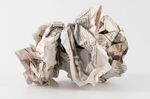 The op-ed begins on a discordant note. "As is usual with poll-driven politicians," writes Marshall Cobleigh in New Hampshire's Foster's Daily Democrat, "Jeanne Shaheen is running television commercials and writing op-ed pieces addressing the dominant problem facing America — skyrocketing gasoline prices — but providing no real solutions."
Gas prices? Shaheen, New Hampshire's Democratic senior senator and still narrowly a favorite for re-election next week, has not been saying much about gas prices. The toll at the pump has not been "skyrocketing" this year -- around the country, it's actually down an average of $0.40 per gallon since the November 2012 election.
The op-ed continues with no more strangeness. Cobleigh cites numbers on congressional votes to expand energy exploration from "Rep. Roy Blunt," but Blunt has been a senator from Missouri since 2011. There's a reference to offshore drilling moratoriums, but nothing about the reversals to those policies since 2010.
What's the matter with the column? Probably that Marshall Cobleigh has been dead for five years. In February 2009, the former speaker of New Hampshire's often-Republican state House was felled by congestive heart failure. This op-ed is a reprint of a column Cobleigh wrote in July 2008, when Shaheen was running her first successful Senate campaign. Buzz Dietterle, the FDD's opinion page editor, says that the New Hampshire GOP submitted the column (which originally ran in the conservative Union Leader). On its own web site, the party credits the op-ed to the "late, great" politician, and offers it as evidence that Shaheen has flip-flopped on nuclear power. At some point in the re-publication process, the minor detail of Cobleigh's mortal status was left out.
"Shaheen, like a stopped clock, is often correct once or twice a day," acknowledges the late Cobleigh in his column. He should hope so. R.I.P.
UPDATE: New Hampshire GOP spokeswoman Lauren Zelt sent this statement after I ran the above item. My only note: Shaheen, like many liberals, appears to have abandoned the nuke-skeptic mentality of the 1980s for the popular idea that nuclear energy is cleaner than fossil fuels.
During last week's NBC News/ New England Cable News debate, Jeanne Shaheen lied to New Hampshire about her long history of opposing nuclear power. In the 1980s, Shaheen was a fierce opponent of New Hampshire's Seabrook Nuclear Plant and frequently debated former House Speaker Marshall Cobleigh on local television about this issue. To highlight Shaheen's blatant lies about her anti-nuclear power activism, the New Hampshire GOP circulated clips of Speaker Cobeligh's television appearances and his 2008 op-ed after the debate.

We did not intend for this op-ed to be republished and clearly listed the original date of publication and mentioned that Marshall had passed away. But we're sure that somewhere Marshall Cobleigh is looking down and laughing at the fact that he had once last chance to debunk the lies of his old nuclear power nemesis.