Philadelphia Eagles Court Judge Retires Amid E-Mail Probe
Sophia Pearson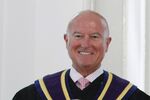 Pennsylvania Supreme Court Justice Seamus McCaffery, known for creating the Philadelphia "Eagles Court" in Veterans Stadium to process unruly fans, said he will retire, the latest casualty in an online pornography scandal stemming from the Jerry Sandusky sex-abuse case.
McCaffery, 64, who has been on the high court for more than six years, was suspended with pay Oct. 20 after publicly accepting responsibility for exchanging hundreds of sexually explicit e-mails on state accounts. The messages surfaced during a review by Pennsylvania Attorney General Kathleen Kane of her office's handling of the Sandusky investigation.
At least seven state officials were named Sept. 25 as recipients of e-mails with photos and videos of women, elderly people and uniformed schoolgirls. The state's top environmental official, E. Christopher Abruzzo, resigned a week after the names were made public.
McCaffery's resignation was announced yesterday on the court's website. Jay Pagni, a spokesman for Pennsylvania Governor Thomas Corbett, acknowledged the governor received the judge's letter of resignation, declining to comment further.
The judge didn't immediately return a call to his residence in Philadelphia seeking comment on his resignation. Dion Rassias, an attorney for McCaffery, also didn't immediately return a phone call seeking comment.
Beat Cop
McCaffery, a Democrat, is a former beat cop and homicide detective who spent 20 years with the Philadelphia police department before becoming a judge in 1993.
He created the Eagles Court in 1997, a nuisance night court at the former Philadelphia home of the National Football League franchise designed to process rowdy fans arrested during games. He was elected to a 10-year term on the state supreme court in 2007.
McCaffery exchanged more than 800 pornographic images and videos in 234 e-mails from 2008 to May 2012, according to a forensic analysis of e-mail archives in the attorney general's office requested by Chief Justice Ronald Castille. The majority of the e-mails were sent by McCaffery to an agent in the office who has since retired, the Administrative Office of Pennsylvania Courts said Oct. 15.
Castille, a Republican who has sparred with McCaffery on numerous occasions, said the scandal has caused the state's high court to be "held up to public ridicule."
'Sociopath' Comparison
"It would be impossible for this court to function effectively while Justice McCaffery sits on this court," Castille said in a concurring statement to the court's Oct. 20 suspension order, likening McCaffery's conduct to that of a "sociopath."
Kane, a Democrat, released the e-mails in response to open-records requests by news organizations. After winning her party's nomination for attorney general in 2012, Kane made the handling of the Sandusky case a campaign issue, criticizing a decision by Corbett, a Republican, to delay prosecution when he was attorney general.
Sandusky, a former assistant coach at Pennsylvania State University, was sentenced to at least 30 years in prison for abusing boys in a scandal that led to the firings of coach Joe Paterno, who died in January 2012, and university president Graham Spanier.
Before it's here, it's on the Bloomberg Terminal.
LEARN MORE