NQ Mobile Jumps After Filing 2013 Report: China Overnight
Belinda Cao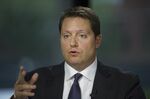 NQ Mobile Inc., the Chinese mobile-security service provider that short-seller Carson Block has accused of overstating revenue, rose to the highest level since June after filing an annual report initially due six months ago.
The company's American depositary receipts rose 5.8 percent to $9.46 yesterday in New York. Trading volume of 16.9 million shares was 4.5 times the 90-day average. NQ Mobile is still down 59 percent since Muddy Waters LLC, Block's research firm, accused the company a year ago of being a "massive fraud" that inflated revenue and misrepresented cash balances. The Bloomberg China-US Equity Index dropped 1.4 percent to 106.23, the most in two weeks.
NQ Mobile had until Nov. 15 to file the 2013 financial statement and avoid being delisted from the New York Stock Exchange. While it said in June that an internal probe didn't find any evidence of fraud, the stock hasn't recovered from declines after it missed two filing deadlines in April and May. The company reported annual revenue of $196.7 million and adjusted net income of $53.5 million in the document to the U.S. Securities and Exchange Commission.
"It's a positive development," Sachin Shah, a special-situations and merger-arbitrage strategist at New York-based Albert Fried & Co., said by phone. "For NQ to regain its full credibility and win investor's confidence further, it still needs to disclose quarterly earnings for this year and the progress of the buyout bid it received" this year, he said.
'Massive Fraud'
The audited financial results "contain no qualification and no adverse findings and are consistent with the company's previous financial disclosures and reports," NQ said in a statement.
The Beijing-based company hired Marcum Bernstein & Pinchuk LLP in July as its new auditor after saying the prior firm, PricewaterhouseCoopers Zhong Tian LLP, had requested information that was unavailable.
NQ Mobile "remains a massive fraud," Block said in an e-mailed response to questions yesterday.
"After dismissing PwC, NQ specifically chose Marcum and its principal Drew Bernstein as its auditor because they have publicly criticized short sellers in the past, and have issued clean audit opinions on numerous questionable Chinese reverse-merger companies," Block said. "The timing of the filing was no surprise either, given the substantial recent run-up in the stock price, as insider trading clearly continues to be rampant in this stock."
ETF Slumps
NQ Mobile's ADRs have rallied 36 percent this month, the best performance on the Bloomberg gauge of the most-actively traded Chinese stocks in the U.S., which slipped 1.4 percent in the same period. The stock's 14-day relative strength index rose to 73 yesterday, data compiled by Bloomberg show, exceeding the threshold some technical analysts see as a signal a security is poised to decline.
Drew Bernstein, co-managing partner at Marcum Bernstein & Pinchuk, said the company can't comment on any specific audit "beyond what is appropriate under SEC and PCAOB guidelines" in an e-mailed response yesterday. The Public Company Accounting Oversight Board was created as a front-line auditing regulator by Sarbanes-Oxley, which overhauled corporate accounting rules.
The iShares China Large-Cap ETF, the largest Chinese exchange-traded fund in the U.S., retreated 1.4 percent to $38.10, slumping the most in two weeks. The Standard & Poor's 500 Index slipped less than 0.2 percent, with energy producers leading losses amid a drop in oil prices.
Sales Forecast
BYD Co., the electric automaker partially owned by Warren Buffett's Berkshire Hathaway Inc., fell 4.4 percent to $6.44 in over-the-counter trading in New York. The company is scheduled to report third-quarter financial results tomorrow. JA Solar Holdings Co., based in Shanghai, slid 4.1 percent to $7.92, the first decline in three days. Yingli Green Energy Holding Co., the biggest solar panel maker globally, dropped 3.4 percent to a one-week low of $2.82.
Bison Capital Holding Co., an investment firm in Beijing, proposed on July 30 to buy NQ Mobile for $9.80 per ADR, a 42 percent premium over the previous day's closing price. NQ Mobile's board was reviewing the proposed transaction and there's no guarantee a definitive offer will be made, it said in a statement that day.
NQ's 2013 revenue more than doubled from that in 2012 and adjusted net income increased 57 percent, according to the annual report.
Even if the company hasn't reported earnings for the last three quarters, its business probably continued to grow in corporate security services, overseas mobile-security software and online games, according to Jun Zhang, head of China equity research at Rosenblatt Securities Inc. "We expect it to raise its revenue forecast for 2014," he said by phone from Beijing.
NQ Mobile last increased its 2014 sales target to as much as $325 million from $310 million in an April 10 statement. It also projected on May 30 that first-quarter revenue may have jumped 125 percent to as much as $76 million and forecast sales for the second quarter may double to as much as $84 million from a year earlier.
Before it's here, it's on the Bloomberg Terminal.
LEARN MORE