Mulino a Vino Review: A Serious Italian Wine Bar With a Superstar Chef
by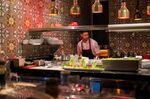 It was 7 o'clock where the Meatpacking District meets Chelsea, and Davide Scabin, a barrel-chested Italian chef with a silver wave of back-swept hair, was pacing his new basement kitchen.

Scabin is from Rivoli in Piedmont, where he's famous for the flashy, modern food he serves at Combal.Zero, a glass-encased stage of a restaurant on the grounds of Castello de Rivoli, a 17th century castle and contemporary art museum.
He first came to my attention years ago with his "cyber egg," an unfortunately named dish that does, to be fair, look like some kind of alien embryo. It's actually egg yolk, caviar, and vodka suspended in a bubble of plastic wrap, that you are meant to pierce with the tip of a scalpel and suck on as the pressure sends it rushing out.

Mulino a Vino does not serve this dish. The tiny wine bar has about 30-odd seats and a short, comparatively down-to-earth menu. All dishes can be ordered in three sizes ($18, $28, or $42) and shared accordingly. None of them require any explanation, or scalpels, to eat.
Doughnuts For Dinner

Warm focaccia kicks off dinner if you're seated at the tables, accompanied by a piped paste that looks exactly like what you picture when I say the words pink slime. The sweet, slightly sticky spread is actually made from prosciutto, and lovely on warm bread.

A small order of Scabin's bombolone involves two big puffs of fried dough, made from all of the same components as the pasta dish cacio e pepe -- buttery noodles wearing nothing but grated cheese and black pepper. The result is a surprisingly tender, flaky pastry filled with a hot, peppery cream, under a heap of pecorino; it's a fine cocktail snack.

Vitello tonnato makes an appearance as thin slices of blushing beef loin rolled up with creamy tuna sauce, nestled in dressed salad leaves. It's not a show-off version at all, just a simple thing done well. But the finest thing on the menu is the slightly more glamorous shrimp risotto. In this sleek dining room it looks dated, presented 1970-style in a molded tower, but it's exquisite. The rice has so much texture, a gentle chew, and the silky, caramel-colored bisque mixed in at the table reinforces it with a refined intensity.
The restaurant seems to be a popular destination for Italian expats in New York. On a recent evening, tall, good-looking young men in suits and women in fringed cocktail dresses pre-gamed with giant glasses of red wine, discussing in Italian how long they'd stay at the party they were going to later. (Not long. There was another party, a better party, somewhere on the other side of town).

Owner Paolo Meregalli, who runs a restaurant of the same name in Italy, is Scabin's business partner here. He wears consistently exquisite shoes, and when he asks how dinner was on your way out, you get the sense he actually wants to know. Chances are if he waits on your table you will leave happy, full, and just a little bit drunk. He is good at this.

And obviously this is the whole point of going to wine bars -- not the length of the list or the tech in the cellar -- but hanging with the guy who wants you to taste the things he loves, who pours you a tiny swirl of the smoky Barolo he opened because it's so good he can't keep it to himself.

The problem at Mulino a Vino is that if you don't have Meregalli attending to you, you might not get a sense of this wine bar's magic. My waitress, when I asked about a particular bottle, told me she didn't love that wine, but she didn't, like, not love it either? I waited for more, but she left it at that.
Salad Management

Scabin set the kitchen in motion and then he left New York, which isn't unusual for famous international chefs with more than one restaurant. But on my most recent visit, when I ordered a perfectly harmless salad, I got the impression the waitstaff could have really used some more time with him.

"That right there is the black spaghetti" the waiter said, pointing to one end of my plate. Because I'm used to spaghetti that looks like a long noodly sort of thing, and not a pile of gunpowder, I asked him to tell me more.

"I don't know!" He said, raising his voice, clearly annoyed. "That's just what they tell me!"

When he returned from the kitchen a bit later, he still didn't have an answer to the spaghetti-powder mystery, but he did have a question.

"Are you loving the salad? It's good, isn't it?"

It wasn't, no. It was mediocre. But then it occurred to me, perhaps the salad was fittingly garnished with the remains of the last person who asked questions about the salad.
I nodded furiously.

Rating: 1/4 Stars (Good)

What to order: Vitello tonnato; shrimp island risotto; bombolone cacio e pepe (all plates small $18, medium $32, large $45)

Who's next to you: Well-dressed Italians ranging from their mid-twenties to their sixties, women in tweed and young women in metallic tweed.

Need to know: The restaurant accepts reservations, but call to specify where you'd like to sit -- at the bar overlooking the kitchen, or at a table. If you're on a date, you may be seated at the communal table for four if you don't request otherwise.

Mulino a Vino is at 337 W 14th Street (Chelsea); +1 212 433-0818 or mulinoavino.com
Tejal Rao is the New York food critic for Bloomberg. Follow her on Twitter @tejalrao and Instagram @tejalra or contact her at trao9@bloomberg.net
To contact the editors of this story: Justin Ocean at jocean1@bloomberg.net and Chris Rovzar at crovzar@bloomberg.net
Before it's here, it's on the Bloomberg Terminal.
LEARN MORE