De Margerie's Funeral Service in Paris Draws France's Elite
Tara Patel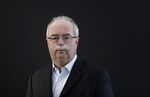 Former Total SA Chief Executive Officer Christophe de Margerie's funeral service in Paris today was attended by France's top business leaders and politicians, including President Francois Hollande.
The service for the 63-year-old, who died in a plane crash last week in Moscow, was held at the Saint-Sulpice church in the heart of the French capital. Prime Minister Manuel Valls and at least three ministers, International Monetary Fund Managing Director Christine Lagarde, Qatari emir Sheikh Tamin bin Hamad Al Thani and former European Central Bank President Jean-Claude Trichet were among hundreds of mourners gathered to pay tribute to the executive.
A photograph of a smiling and notoriously late de Margerie looking down at his wrist-watch hung facing his casket while the nearly two-hour Catholic mass was punctuated by gospel singing and tributes by family members, a colleague and a friend.
Remembered by Total Chairman Thierry Desmarest for his vision, imagination and warm relations with leaders of oil-rich countries, speakers also alluded to the executive's colorful personality, sense of humor and carefully-groomed mustache.
He will be greeted at the gates of heaven "with a glass of whiskey," said Jean-Pierre Jouyet, Hollande's chief of staff, referring to de Margerie's favorite drink.
De Margerie's death in an accident at Moscow's Vnukovo airport ended a 40-year career at Total that was so intertwined with the globe-trotting executive's personal life that Jouyet referred to the company as his second family. Total named Patrick Pouyanne, 51, CEO, while Desmarest returns for a second stint as chairman until the end of 2015. Desmarest mingled with close family members today and pronounced the first tribute.
Snowplow Collision
The former boss of France's biggest company by sales died after his private jet collided with a snowplow operated by a driver investigators say was drunk. The driver denies having had too much alcohol. Three crew members aboard the plane were also killed.
The grandson of the founder of champagne-maker Taittinger SA, de Margerie started his career in Total's finance department in 1974 and took over as CEO in February 2007, when that post was split from the chairman's.
During his time at Total he oversaw far-flung operations from Indonesia to the Middle East to Kazakhstan. The company, struggling to raise output and improve profitability of its European refining business, is scheduled to publish third-quarter results Oct. 29.
Before it's here, it's on the Bloomberg Terminal.
LEARN MORE