Brees Outdraws Bumgarner as NFL Tops World Series on TV
Mason Levinson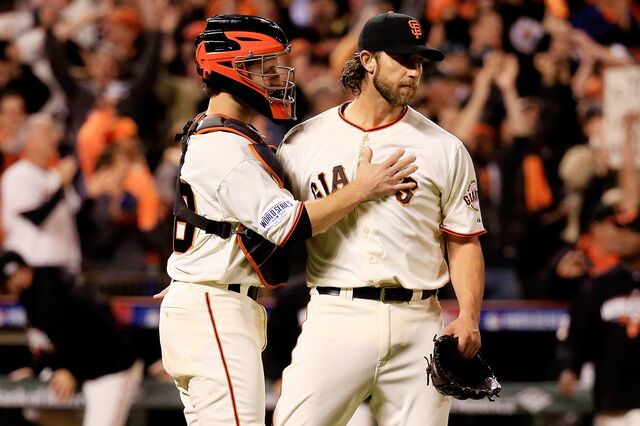 A midseason National Football League blowout drew a 39 percent higher preliminary television rating than Game 5 of the World Series, the biggest margin in five head-to-head matchups between "Sunday Night Football" and Major League Baseball's championship.
The New Orleans Saints' 44-23 win last night over the Green Bay Packers on NBC was seen in an average of 11.4 percent of homes in the top 56 U.S. television markets, while the San Francisco Giants' 5-0 win over the Kansas City Royals in Game 5 of the World Series earned an 8.2 major-market rating, Dan Masonson, a spokesman for Comcast Corp.'s NBC, said in an e-mail.
Drew Brees went 27-for-32 passing for 311 yards and three touchdowns as the Saints outscored the Packers 28-7 in the second half to raise their record to 3-4. Green Bay fell to 5-3 with the loss.
In baseball, the Giants moved within a game of winning their third World Series in five years as Madison Bumgarner threw his second shutout this postseason. Bumgarner tossed a four-hitter, striking out eight while not allowing a Royals runner to reach third base.
The Royals can force a decisive seventh game in the series by winning at home tomorrow. MLB and 21st Century Fox Inc. are counting on a long series to make up for the fact that major-market franchises such as the New York Yankees, Boston Red Sox and Los Angeles's Dodgers and Angels either failed to make the playoffs or advance to the championship.
Game 7 of the World Series, if needed, would be Oct. 29.
Before it's here, it's on the Bloomberg Terminal.
LEARN MORE