U.K. Tories' Immigration Rhetoric Clashes With EU View
Emma Charlton and Robert Hutton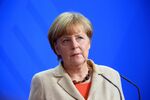 U.K. Prime Minister David Cameron's Conservative party intensified its immigration rhetoric, setting it on a collision course with German Chancellor Angela Merkel, who said she won't support a cap on free movement.
Defence Secretary Michael Fallon said yesterday the Tories are continuing work on proposals to limit immigration and are looking for backing from European Union members including Germany, the euro region's largest economy. The comments came after Merkel signaled she'd oppose Cameron's demands to end free movement of citizens around the 28-nation bloc.
The developments mark the latest step in the Tories' attempts to fend off the advance of the anti-immigration, anti-EU U.K. Independence Party after two lawmaker defected. Last year, Cameron pledged to hold a referendum on leaving the EU should he win next year's general election. He's also promised tighter welfare rules for migrants and a block on movement of people from countries that join the EU in future.
Plans are "still being worked on at the moment to see what we can do to prevent whole towns and communities being swamped by huge numbers of migrant workers," Fallon said on Sky News television. "In some areas, particularly on the east coast, towns do feel under siege from large numbers of migrant workers and people claiming benefits."
Commons Statement
Cameron, who attended an EU summit last week, will report back to Parliament at about 3.30 p.m. in London. The Brussels meeting was dominated by a dispute about what Cameron said was a surprise demand for an extra 2.1 billion euros ($2.7 billion) extra funding for the EU from the U.K. Thumping his lectern at a close-of-summit press conference, the prime minister described the bill as a "lethal weapon" and said he would resist paying it.
The prime minister didn't find universal support in Brussels for his positions on either immigration or EU funding. French President Francois Hollande described the budget revisions as "good news." Merkel, meanwhile, said she won't support any kind of immigration cap, the Sunday Times newspaper reported yesterday.
"Germany will not tamper with the fundamental principles of free movement in the EU," Merkel said, according to the Sunday Times. She said benefit abuse "needs to be resolved," according to the report.
Cameron's political opponents accused him of putting domestic issues ahead of the U.K.'s best interests.
'Two Ways'
"When you talk about the free movement of people in Europe, people have to remember it's two ways," with Britons living in Spain, France and other EU nations, Energy Secretary Ed Davey, from the Tories' Liberal Democrat coalition partners, said on Sky News yesterday. "If we were to pull up the drawbridge on the English Channel, the truth is British people wouldn't be able to come and go. Freedom of movement of people is very important."
Fallon said the Conservatives are looking at outright numbers of immigrants in particular areas. UKIP's rise since 2010 threatens Cameron's re-election chances. The party took its first elected seat in the House of Commons this month in Clacton in eastern England, following the defection of Tory lawmaker Douglas Carswell.
The defense secretary issued an apology today after saying that some areas had been "swamped" by migrants. "I was a little careless of the words I used yesterday," he said in a statement. "What I meant was that there is huge pressure on our system now on housing, on school services, from the big jump that there's been in migration from other European countries."
Fallon's comments speak "to the desperation of the Conservative Party," Labour's foreign-affairs spokesman, Douglas Alexander, told Sky News. "The problem at the moment is that we have got a government that's spending more time negotiating with its backbenchers than negotiating with European leaders. David Cameron is so fearful of internal challenge on the issue of immigration, and external challenge from UKIP, that I think he's letting Britain down."
Before it's here, it's on the Bloomberg Terminal.
LEARN MORE