Thai Farmers Fret Over Survival as Sluices Shut: Southeast Asia
Supunnabul Suwannakij and Chanyaporn Chanjaroen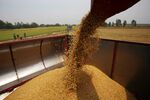 The fields of Thailand's Chao Phraya River basin are lush green this month as the region that grows about 30 percent of the country's rice supply is fed daily by a complex network of irrigation channels.
That will change from November as the government of the second-largest exporter turns off the tap, halting water supplies to 10.7 million rai (1.7 million hectares). With levels in major reservoirs in the kingdom at a 15-year low, the authorities want to conserve water for next year's harvests, threatening to cut this season's second rice crop by 36 percent.
"I have no idea how to survive," said Niyom Puengna, a 61-year-old farmer in Sing Buri province, about 140 kilometers (87 miles) north of Bangkok. "I am too old to seek employment. Still I have bills to pay and debts to service. I am very worried," said Niyom, a fourth-generation farmer.
Three years after floods inundated the region, swamping factories and submerging parts of Bangkok, Thailand is facing the consequences of lower-than-usual rainfall and the legacy of a state rice-buying program that spurred record supply. While the irrigation cutoff will hurt farmers' livelihoods and pose a further challenge to the economy, lower rice output may support the military government's bid to sell off record stockpiles that accumulated under the support policy.
"The relatively poor 2014 season could be a blessing as it would help solve the oversupply situation," said Concepcion Calpe, a senior economist at the Food & Agriculture Organization in Rome. Another large crop would have made the task far more difficult, Calpe said in e-mailed comments.
Smaller Harvest
Production from the second harvest, which accounts for about a quarter of annual output, may drop 4 million metric tons to 7 million tons, reducing the year's harvest to 34 million tons, Kanit Likhitvidhayavuth, deputy secretary general at the Office of Agricultural Economics, said in an Oct. 21 interview. That's the lowest since 2009-2010, government data show.
Niyom and other farmers had boosted supply to a record under the state-buying program that began in 2011 as Prime Minister Yingluck Shinawatra's administration paid growers above-market rates for crops. The policy lapsed in February, three months before Yingluck was ousted by the military. Petipong Puengbun Na Ayudhya, appointed by the junta as minister of agriculture, said on Oct. 1 that the new government won't buy crops directly as it spurs oversupply.
Stockpiles jumped to 13.2 million tons of milled grain this year from 5.6 million tons in 2011, according to the U.S. Department of Agriculture. The FAO puts Thai holdings at 18 million tons this year, enough to cover 45 percent of global exports, according to a report this month.
Spurred Planting
The water-supply halt, the first since 1994, will last through April after rain in the central plain was 20 percent below the 30-year average, according to Royal Irrigation Department Director General Lertviroj Kowattana. The previous government's above-market price incentives had spurred plantings that were more than double what his department had estimated, Lertviroj said in an interview in Bangkok.
While agriculture accounts for about 8 percent of gross domestic product, rural residents make up almost 87 percent of the 67 million population. Thailand's economy is stagnating amid a lack of confidence, Finance Minister Sommai Phasee said in an Oct. 20 interview. Gross domestic product may expand 1.5 percent this year, the World Bank forecasts. That would be the slowest pace since 2011, when the floods swept the country.
Stockpile Sales
Among measures approved by the junta this month, 40 billion baht ($1.2 billion) will be paid to as many as 3.5 million rice-farming households. The state is also pressing on with sales from the rice stockpiles, Prime Minister Prayuth Chan-Ocha said in his weekly television address Oct. 3.
The government has been careful in releasing rice from the reserves to avert a sharp drop in prices, said the FAO's Calpe, who's studied the global rice market since 1998. Thai exports may increase 10 percent to 10.6 million tons next year, surpassing India as the top shipper, the agency forecasts.
The price of 5-percent broken rice was at $426 a ton on Oct. 22, according to the Thai Rice Exporters Association. That's 11 percent above $384 on May 28, which was the lowest since at least 2008. Prices may advance as dry weather hurts production, Commerce Minister Chatchai Sarikulya said on Oct. 8.
"As for the problem of water shortages, I would like to ask for cooperation and understanding from farmers," Prayuth said in his weekly address on Oct. 24. "From now until the middle of next year, Thailand does not have sufficient water for both consumption and agriculture."
Niyom, the farmer, said he's saddled with 600,000 baht of debt after borrowing to expand his acreage. As the fields are suitable only for rice thanks to the nearby aqueducts, switching crops isn't an option, he said.
That's unlikely to sway the authorities.
"If we keep on supplying water to farmers, this problem of overuse will persist," said Vichai Niomsong, the irrigation officer who oversees supply to Niyom's farmland in Sing Buri as well as two other provinces. "We will have to stick to the government's plans."
Before it's here, it's on the Bloomberg Terminal.
LEARN MORE